An ode to omakase
· 16 March 2021
·
Dining
Kappo Shunsui continues its long-running performance with a new head chef and venue.
Fans of Kappo Shunsui in Cuppage Plaza may now indulge in their favourite omakase menu at the restaurant's new location in Hong Kong Street. Previously, diners had to look for a frosted glass door on the fourth floor, but now, diners will be welcomed by a stylish sliding black door that plays up the contrast amidst the old-world trade and business storefronts of Hong Kong Street. The former outlet remains under the new name Tsubaki by Shunsui, headed by Chef Kenta Yamauchi.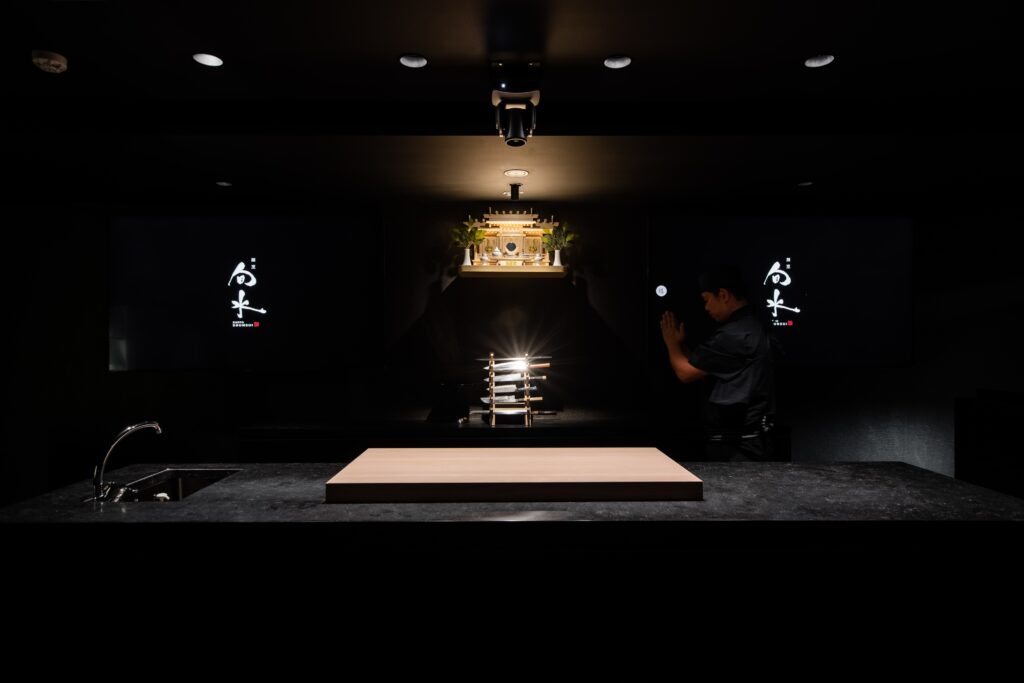 The new Kappo Shunsui offers the same familiar kaiseki-style private dining experience, but with the experiential factor intensifed manifold, and with a design narrative that emphasises a modern, dramatic look. Fukuoka-born Head Chef Shimuta Kunihiko wields the knives in this edgy venue dressed in black and concrete for industrial chic vibes that make you think you are in for an art performance the moment you enter. Two things caught my eye: the striking Kamidana shrine and the rows of culinary knives, placed front and centre like key dramatic elements on a stage. Then, I saw the huge LED screens on either side of the chef's island counter and the overhead projector. With a maximum of 13 counter seats, all diners are guaranteed a box-office-seat experience with up-close views of Chef Shim's culinary flair from a top-down angle so that no detail is lost to the diner.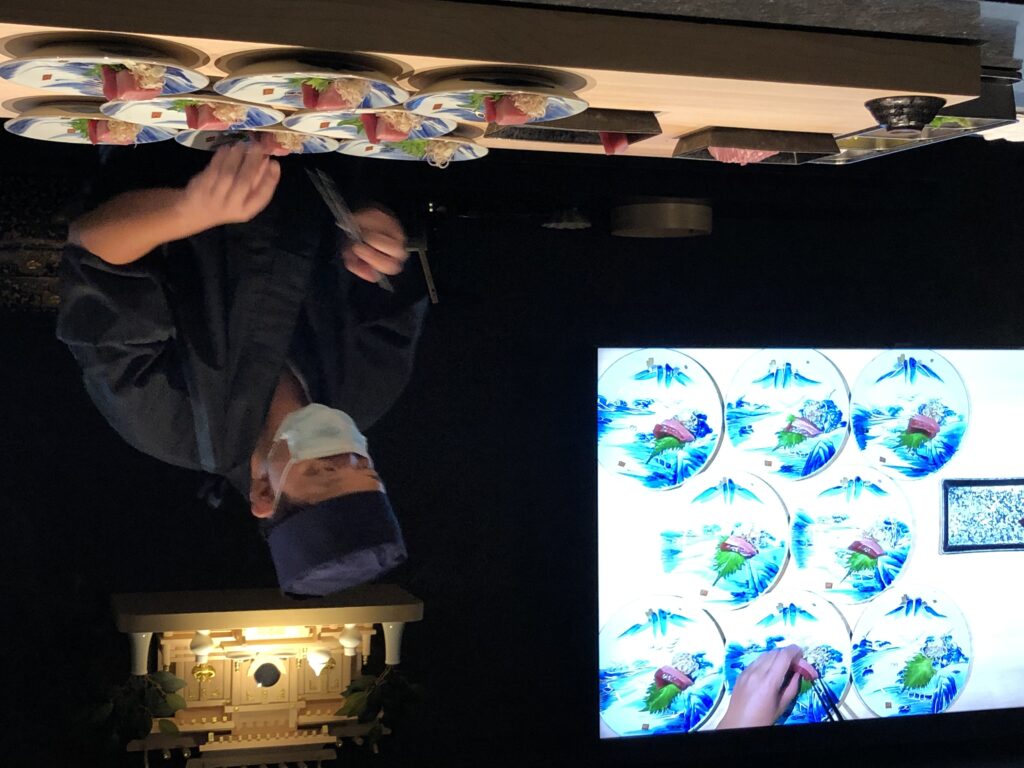 Chef Shim was a direct disciple of famed Chef Hirata Tasaku of one-Michelin-starred Kodaiji Kanjin, who learnt the different aspects of traditional Kyoto-style cuisine and studied Chef Hirata's creative techniques for 10 years. Since then, Chef Shim has honed his edge in Kitaohji in Tokyo and Bangkok for another 10 years before coming to Singapore to join Kappo Shunsui. Here, Chef Shim serves up just one omakase menu – the 11-course Shunsui priced at $380++ per person, with a sake-pairing option at $150 with a selection of five premium sakes. Over 100 types of sakes are available, with rare and premium brands such as Aramasa, Denshu, Juyondai, Kokuryu and Nabeshima.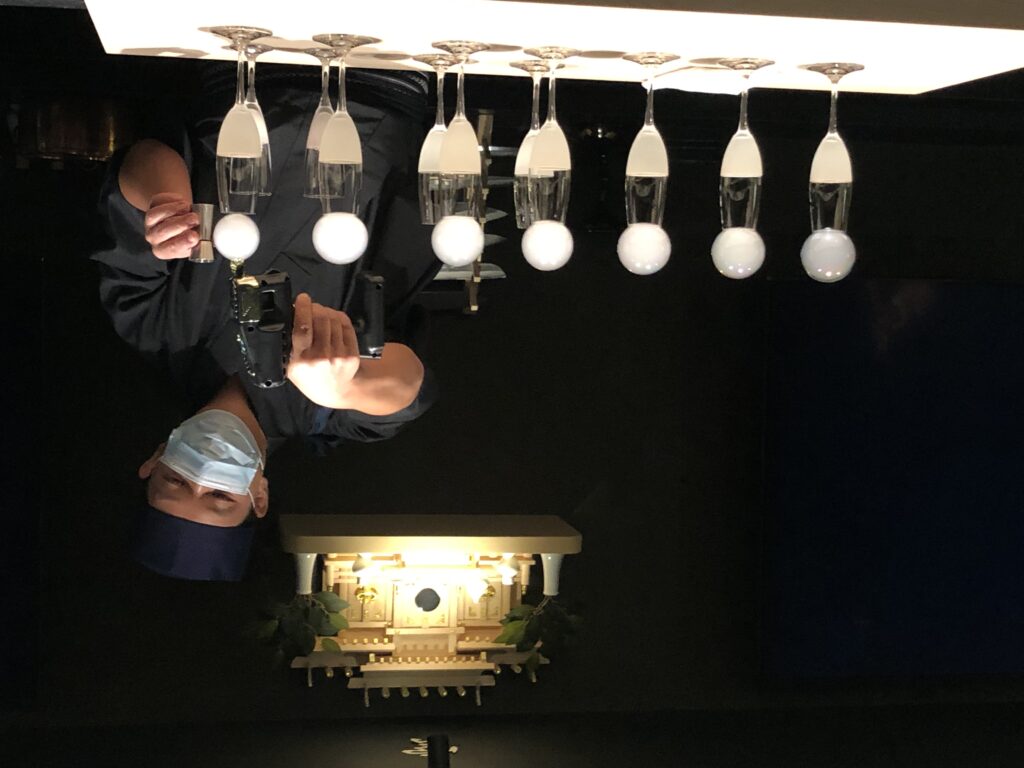 There's only one dinner seating at 7pm, which requires all diners for the evening to be punctual as Chef Shim's performance has no replays. He welcomed us with glasses of Kid Junmai Daiginjo Sparkling, the winner of International Wine Challenge Sparkling Sake Trophy 2019 and surprised us by pulling out a smoke gun (aka Flavour Blaster used by bartenders) to create orange-flavoured smoke bubbles for our sake served in champagne glasses. He next whipped out glass siphons used in coffee brewing to prepare our Dashi, boiled at 75 degree celsius to bring out the flavours of dry katsuobushi from Kagoshima and seaweed from Hokkaido.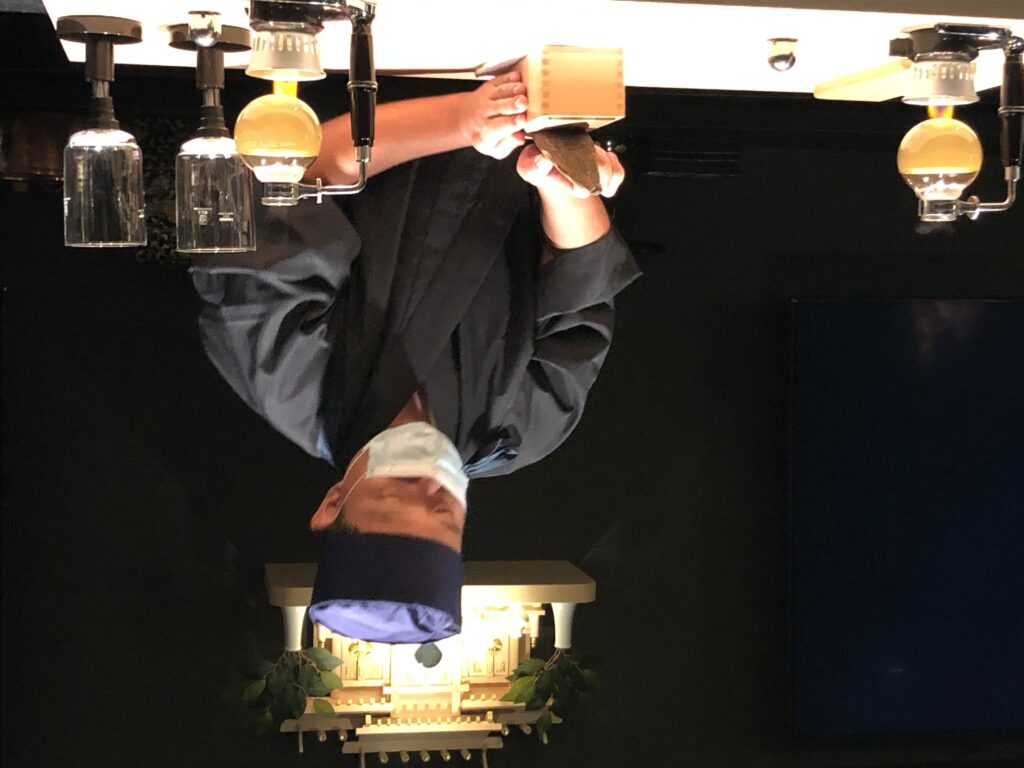 Our appetites were whetted by a Sakizuke appetiser of white shrimp, bafun uni and caviar sandwiched in between two thin crisp wafers; and a Hassun appetiser of fried ice fish, sea bream roe, broad bean, tiger prawn with egg yolk and bamboo fish cake for a refreshing medley of clean flavours. His trio of Tsukuri sashimi dishes that followed after built on the flavour profiles: the Surf Clam and Firefly Squid was juicy and satisfying; followed by the clean and mildly sweet taste of Red Sea Bream, Halfbeak, Sakura Flower and Chrysanthemum Jelly; and ending with the satisfyingly savoury profiles of Lean Tuna, Medium Fatty Tuna and Fatty Tuna Sushi.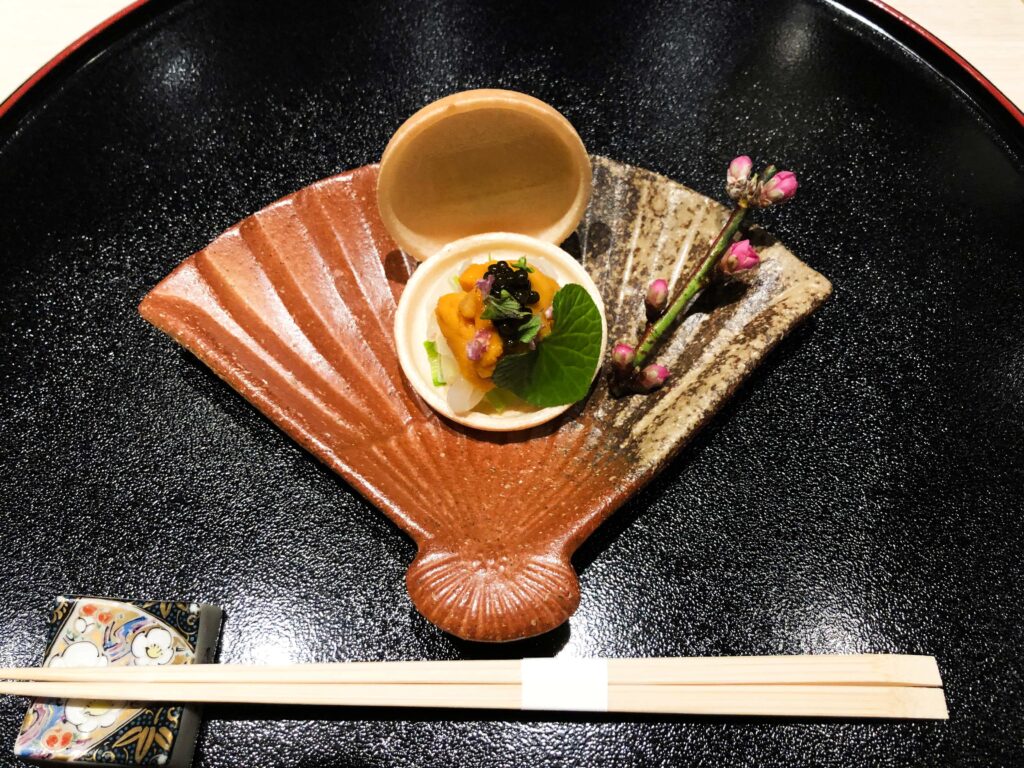 True to the kaiseki principle of harmony and balance with nature, simple but thoughtful dishes such as the Owan, a soup course made of abalone, bamboo shoot and wakame is given due attention at Kappo Shunsui. All the ingredients are harvested at the peak of their seasons to ensure their freshness, with Kumamoto wakame harvested from the mountains early in the morning and raw wakame that has not been preserved by salt.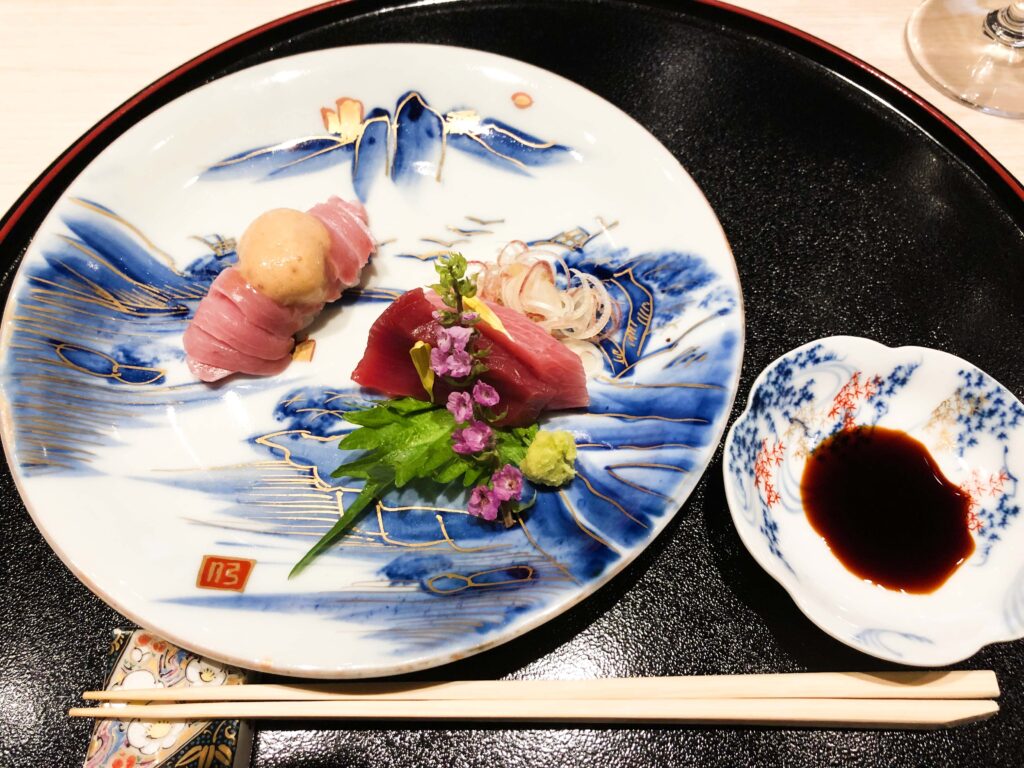 The highlights for me were the Golden Eyed Snapper with Murasaki Uni and A5 Miyazaki Beef, Truffles and Brussel Sprouts that came after. The Chiba snapper and Miyagi uni were simply melt-in-the-mouth and was full of umami goodness, blending well with the aromatic and sticky Koshihikari rice from Kyoto. The A5 Miyazaki was, needless to say, immensely satisfying with its intense flavour, balanced by the surprising but delightful choice of brussel sprouts to cut through the fatty taste. It introduced a slightly bitter-sweet flavour into the profile and enhanced the earthy aromatics of the truffles. The final Shokuji course of Clay Pot Rice is a signature at Kappo Shunsui, and featured the current season of sakura shrimps and asparagus from Hokkaido.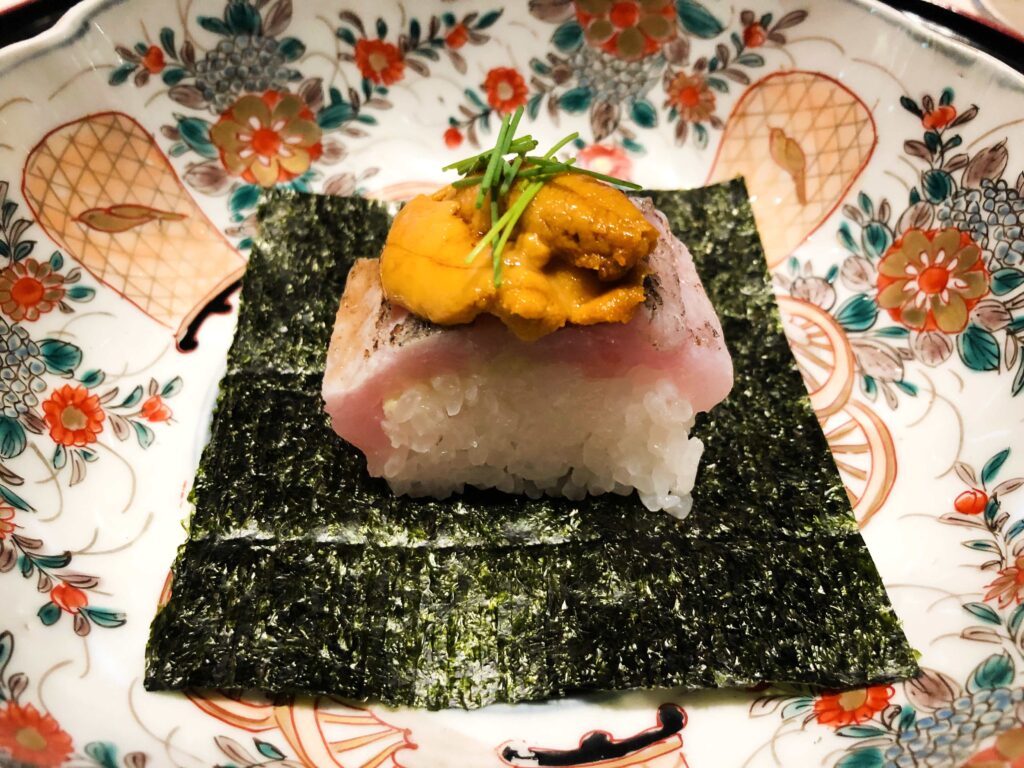 Chef Shim ended the three-and-half-hour experience with a visual feast by whipping up a cauldron of sesame ice cream with liquid nitrogen, while the skilful kimono-clad hostess prepared our matcha with a flawless ceremony. Multi-sensory is the word to describe our dining experience, not to mention an appreciation of art in various forms, including the gorgeous antique plateware from Imari, Kutani and private collectors, with some dating back 200 years old. Consider a dinner at Kappo Shunsui to be an entertainment for the senses and to be enjoyed at much leisure.
17 Hongkong Street. Tel: 6223 1278. kapposhunsui@stylez.com.sg
SHARE