A story about hope, family and mod-European cuisine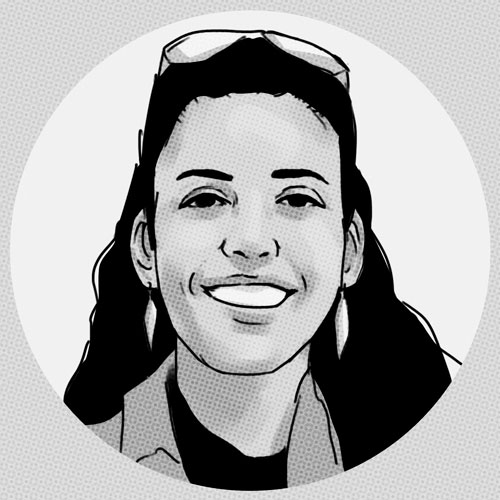 · 10 February 2021
·
Dining
Dempsey Hill's latest addition MOONBOW is all about cosy and elegant interiors, beautiful plates of food, and healthy cooking inspired by family.
We have to say – the beautiful interiors took our breath away the minute we stepped into MOONBOW. The cosy but busy space is decked out in calming pastel and champagne hues with accents of gold, designed with tall ceilings, mirrors and a glass kitchen to make the interior look even more spacious. Mission accomplished. It's a place that makes you feel like you can escape the hustle and bustle that is normally synonymous with Dempsey Hill and relax amid great service and gorgeously crafted plates of food.
Celebrated local chef Heman Tan is the co-owner and chef at this new 4,500 sq ft restaurant that is barely two months old, offering modern European cuisine with an Asian accent, resulting from Tan's over 38 years of culinary experience as he merges his love for Asian ingredients and Western cooking techniques. Conceptualised by its co-owners Dylan Soh and Tan, MOONBOW takes its name from the rare, natural phenomena known as a lunar rainbow. As moonbows are often regarded as a symbol of hope during difficult times, it is a fitting name for the restaurant, which was Tan's beacon of light amidst the past year's challenges. "MOONBOW was conceptualised during and despite the difficult circuit breaker period. Just as we were brainstorming names for the restaurant, a ray of light appeared next to the moon that very same evening. Inspired by it, we decided on the name MOONBOW. We hope MOONBOW will delight our guests with a unique and unforgettable dining experience," he shares.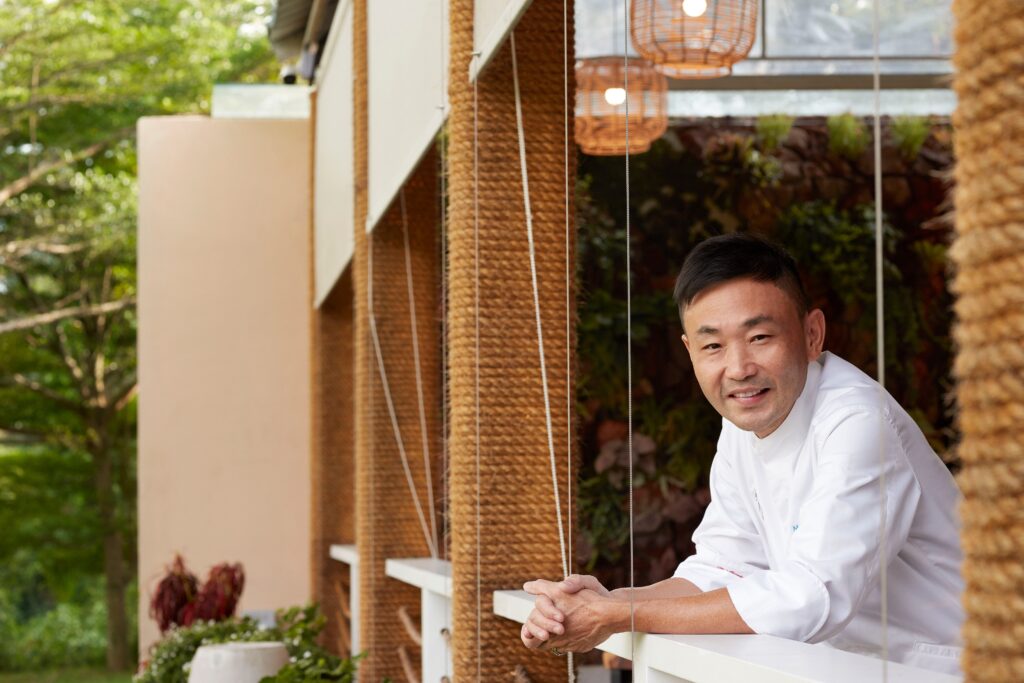 A striking centrepiece of the restaurant is the feature wall showcasing a 4.3m tall tree meticulously pieced together from separate, naturally dried branches collected in a private garden. Each branch is adorned with magnolia flowers, tastefully matching the dining space interspersed with blooms of orchids. Diners can also choose to be seated in the private dining room which seats eight people, or sit at the outdoor covered patio overlooking the Dempsey field, perfect for lazy family weekend brunches.
The artistically-inclined chef also serves his picture-perfect dishes on vibrant, custom-made ceramic tableware designed by himself, so diners can expect his personal stamp on pretty much everything throughout the meal, including heart-warming personal family snippets on the inspirations behind his dishes. Did we mention that Tan is also known as Iron Man Chef for his active participation in triathlons? His energy and passion seem to be boundless.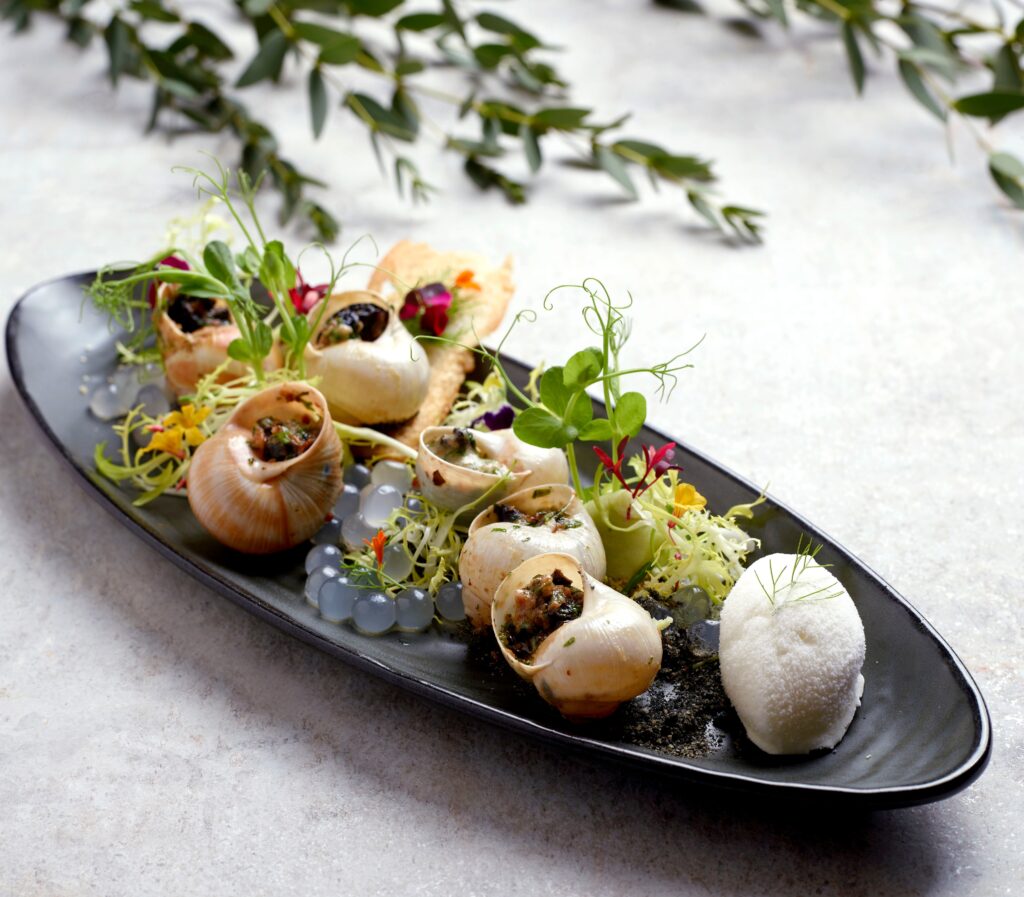 Start off the menu with the Garden of Escargot ($23++) with fresh micro cress, truffle gelato, lychee pearl, mushroom soil, and mashed edamame. "I was inspired to create this dish after observing snails in the park during a particular rainy day in the UK. One day after a rainstorm in Singapore, I saw snails appearing in a garden and thought of the idea of recreating the scene using escargots," he shares. The use of edible flowers and soil, along with lychee pearls that represent rain drops also help to capture his moment perfectly.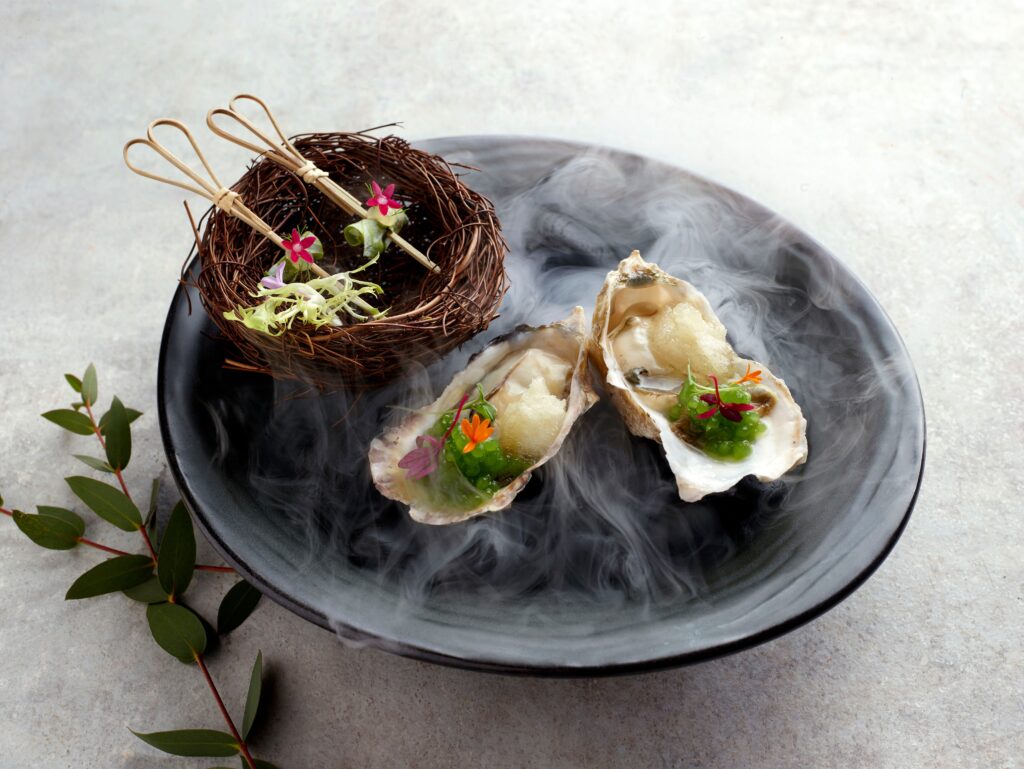 Don't miss the beautiful Moonbow Oyster Bay ($10++ per piece), featuring Fine de Claire oysters served with oyster leaves, yuzu gel, cucumber pearl, and yuzu granite, presented in a cloud of liquid nitrogen to maintain the cold temperature optimum for the oysters. This dish is inspired by Chef Heman's second daughter, who isn't too fond of eating oysters directly, hence they recommend starting with the oyster leaves to open up the palate.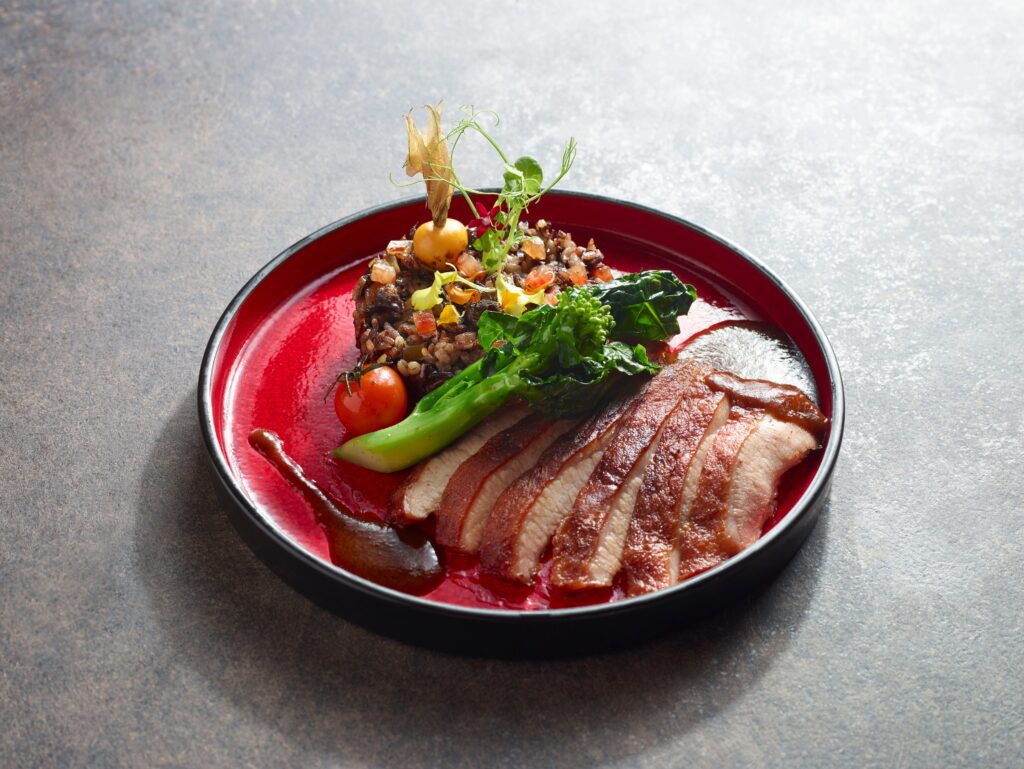 For refreshed, elevated takes on treasured home recipes include the Black Berry 4-Grain Healthy Rice, a blend of four grains (black berry rice, red rice, barley and pearl rice) first created for Tan's diabetic mother. At MOONBOW, the 4-grain rice is mixed with olive leaves and Chinese lap cheong sausage, and paired with either roasted pork jowl "Ton Toro" ($38++) or "Impossible" meat patties ($28++).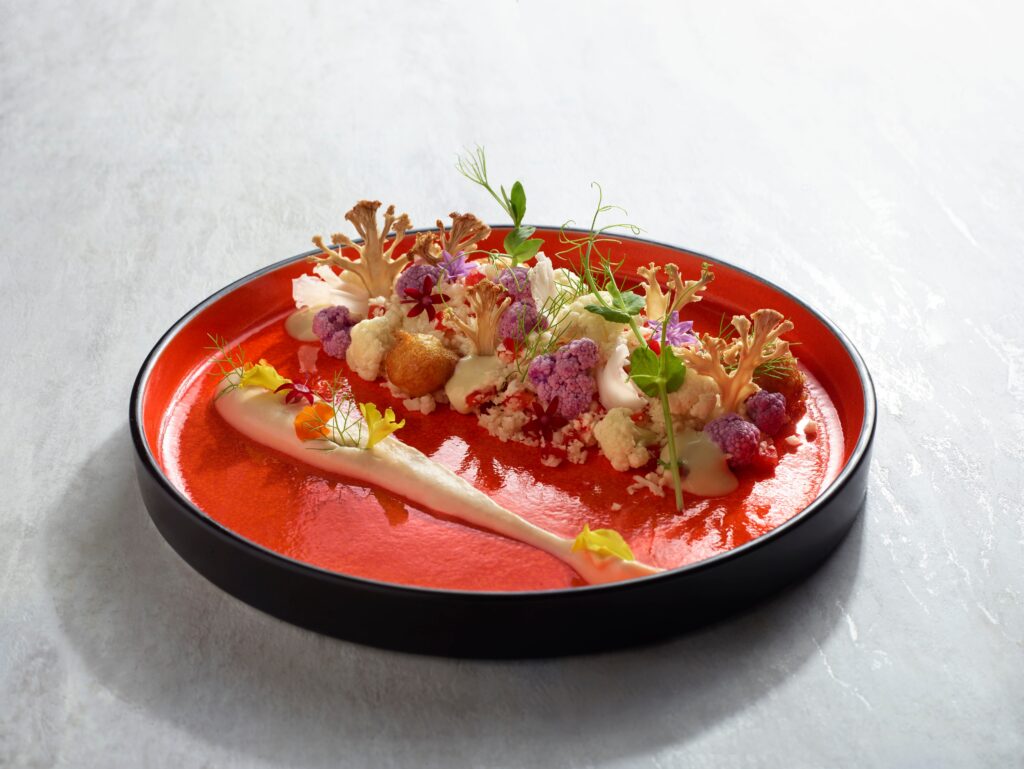 Another healthier dish we recommend is the Cauliflower Bloom, featuring different textures of cauliflower. Specifically, warm Cauliflower Floret, Dehydrate Cauliflower, Cauliflower Cous Cous, Cauliflower Purée, Mixed Nuts Crumbs, Garlic Crumbs, Cress and Hollandaise.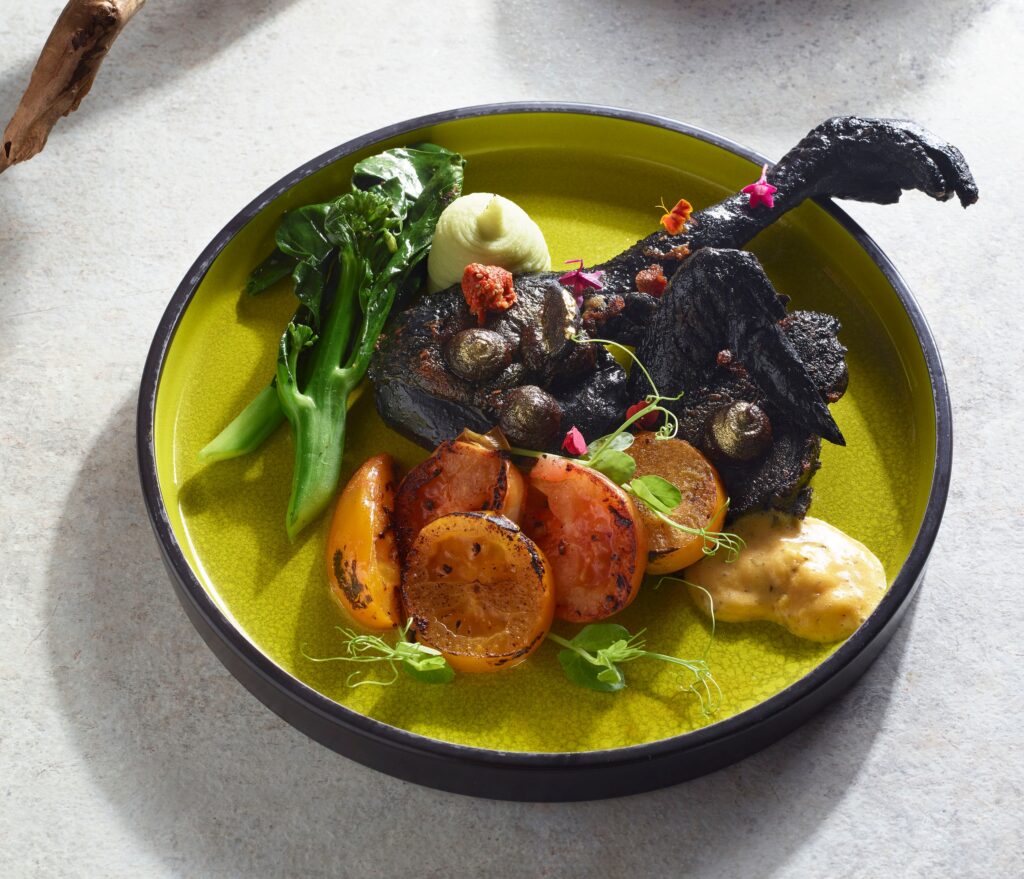 Likewise, the chargrilled Black Silkie Poulet ($38++) where Black Silkie Chicken leg is served with garlicky crumb, bearnaise sauce, wolfberry mash, black garlic purée, edamame mash and heirloom tomatoes. The creation dates back to the time Tan's wife craved sesame chicken during her confinement time with their second child; but despite Tan only finding black chicken during his visit to the wet market, the dish turned out better than expected and has been one of his family's favourites ever since. Now he elevates the dish by brining the chicken with sugar and salt water, and seasoning it with sweet paprika and garlic, before being cooked sous vide at 74°C for three hours.
Other highlights include the Fermented Red Yeast Wine ($38++), comprising fermented red glutinous rice wine and oyster mushroom, served with Filet de Barramundi, and the Tomahawk de Swine ($68++), a specialty unique to MOONBOW, it being the only restaurant in Singapore to use an untrimmed tomahawk chop from a 9- to 10-month young pig. Aged for four days, the succulent cut is served with roasted garlic, caramelised lime, pineapple compote and a homemade BBQ glaze. This dish was created for Tan's diabetic mother, but the version at MOONBOW has an addition of extra grains, as well as being slightly seared, to give it a hint of char.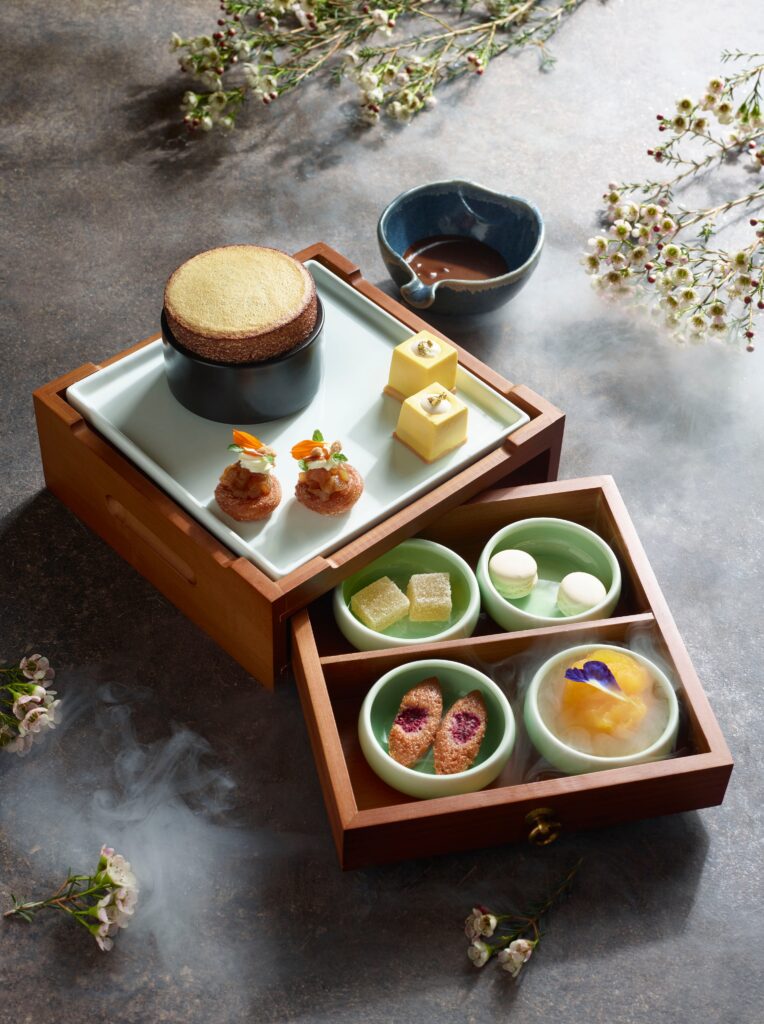 Finally, end on a gorgeous selection desserts presented in a wooden drawer designed by Tan, inspired by the Chinese Eight Treasure Box. "I have a sugar deficiency, so needs to consume sugar regularly. But more importantly, I created this dessert as a way to spend more time with my family because I'm always short of time, and having dessert at the end of a family meal helps me hold on to my children at the table for a little longer," he shares. Indulge in his Treasure Drawer ($32++) comprising Pistachio Chocolate Souffle, Mango Passion Mousse, Petite Apple Crumble Tartlets, Financier Raspberry, Yuzu Star Anise Pate fruit, Truffle Cheese Macaron and Orange Granita.
Block 10 Dempsey Road, #01-21. Tel: 9010 2717
SHARE