The Garage fine-tunes the best of Southeast Asian flavours
Chef Sujatha Asokan serves up a medley of multicultural influences that surprise diners with twists and turns.
Young minds think differently, and for Chef Sujatha Asokan, it comes down to the heart and mind melding together to produce dishes that have soul, never mind that it isn't always polished to perfection or takes a different path to success. The beauty is in tasting this journey of transformation with Chef Sujatha, and recognising the sparks of genius from her dishes. After all, Chef Sujatha is the youngest female head chef to have been entrusted to lead the culinary revamp of a major F&B group's multi-concept brand. Not to mention her talent had also caught the eye of her peers at the 2019 World Gourmet Summit where she was named the Rising Chef of the Year – Female.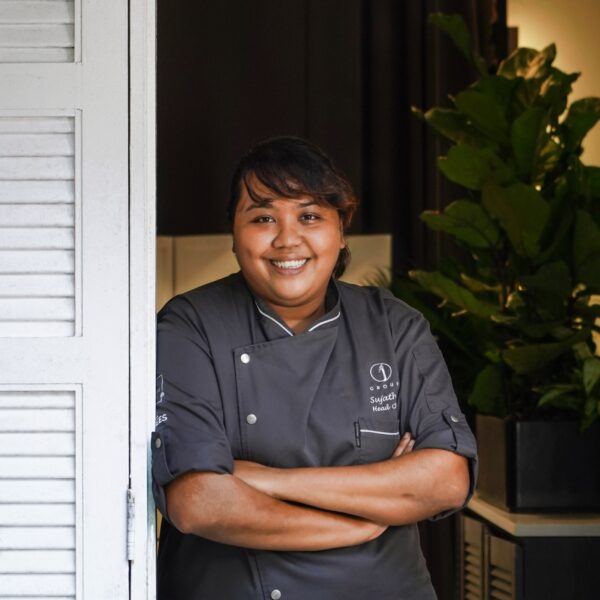 Assam laksa served cold. Yes, that's how bold she is, and you'll be surprised how well that works. To locals, the flavours are reminiscent of assam laksa, but the dish is an interpretation of it. The laksa sauce of belachan, candlenuts, dried chilli, galangal, ginger flower, shallots, turmeric, laksa leaves, lemongrass, and tamarind skins and pulp bring out the traditional essence of what we love in assam laksa. But the twist is that it is actually a Seabass Ceviche, served diced and dressed with lemon and lime juice, chilli jam, olive oil, diced jalapeno, shallots, coriander and mint, piled around glass noodles dressed in the piquant laksa sauce. Topping the dish is a quenelle of housemade shrimp paste ice cream for a cold umami kick. This is a special dish that pretty much sums up Chef Sujatha, and it's a heartfelt tribute to her childhood where she grew up watching her mother and aunts cook.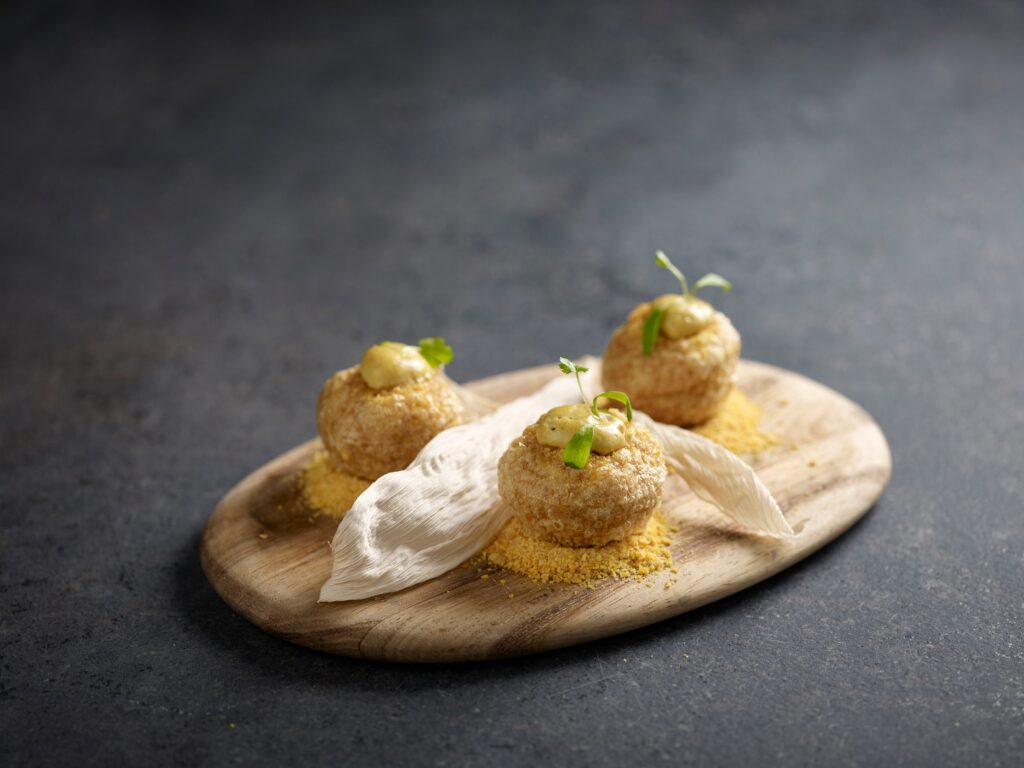 It is this same sense of adventure mixed with a good dose of nostalgia that led to the creation of new dishes such as the elevated Corn Panipuri and creative Herbal Chicken, which is a very apt tribute to Chef Sujatha's Chindian roots. The small puffs of puri pastry filled with spiced baby corn and a rich espuma of curried Japanese corn teased the palate and introduced us to her style of elevated tradition, with the use of ingredients such as French vadouvan to add a different perspective to the typical taste profile.
"While I am inspired by Asian flavours, I still focus on European produce and ingredients to bring out different nuances in the flavour profiles of the dishes. So although they may be local delights such as herbal chicken, rojak or assam laksa, I apply my own creative vision to it so that diners can indulge in a different interpretation of their favourite local dishes. It's a challenge to see how I can elevate simple dishes that have their place in a hawker centre. The Rojak and the newly included Wing Bean Salad have their stamps of approval by diners so far. I will continue to test out new ideas and get diners' feedback in my 'guinea pig' menu before they make it into my regular menu. I hope they will be continually surprised," shares Chef Sujatha.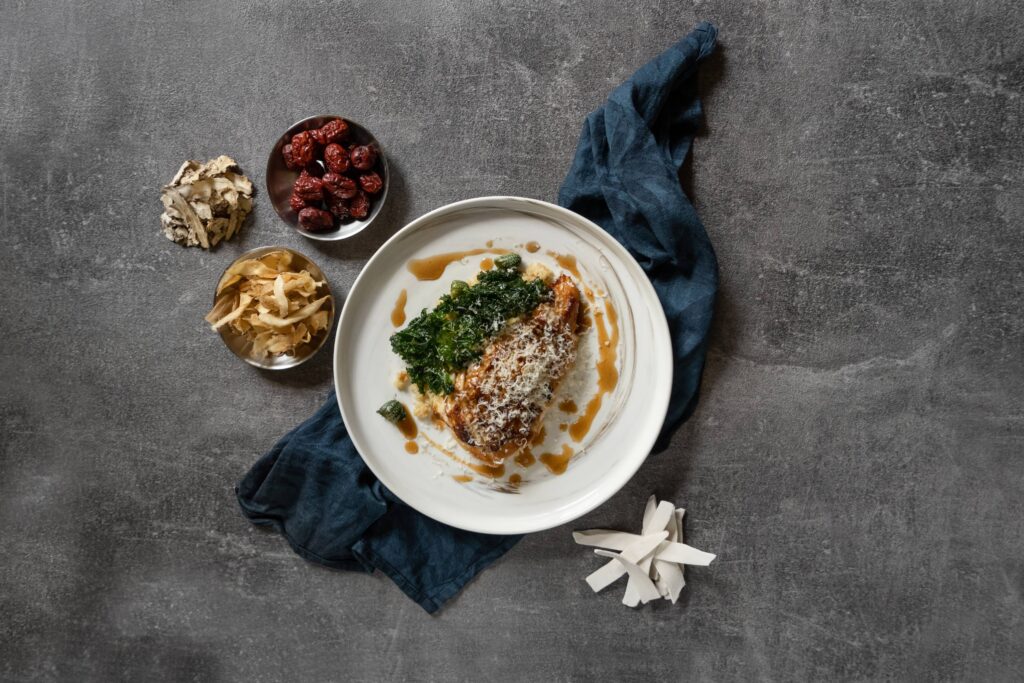 For the Herbal Chicken, it was a dish that brought together the taste profiles of Hainanese chicken rice with traditional herbal chicken. Instead of the usual herbal broth, Chef Sujatha reduced an intense sauce made from angelica, Chinese yam, Solomon's Seal and red dates, which dressed the beautifully tender and moist chicken breast meat, served with ginger- and garlic-scented couscous. It was a classy rendition of a much-loved local favourite, prepared with a thoughtful twist.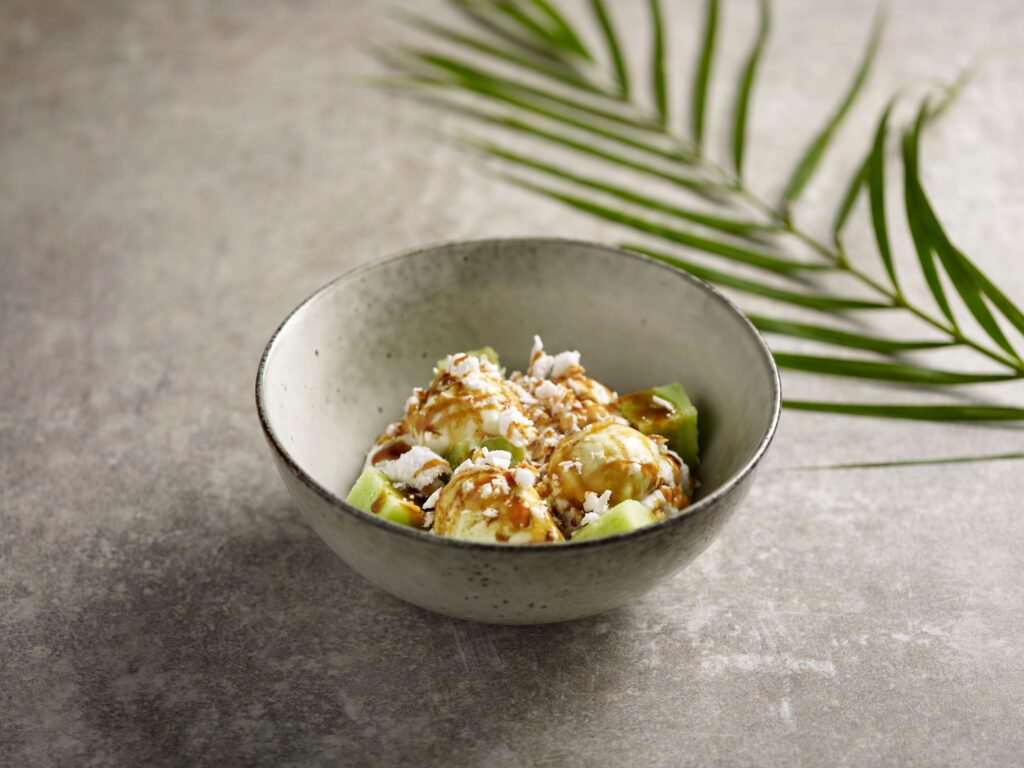 This distinctive style carried through to her desserts, which brought back memories of favourite local desserts such as ondeh ondeh and pulut hitam. In the Ondeh Ondeh, there is a play on soft creamy textures, with coconut foam and kaya ice cream accompanying the pandan glutinous rice cakes, while the playfully named BGR (black glutinous rice) was presented as cubes accompanied by toasted rice ice cream for a fragrant note.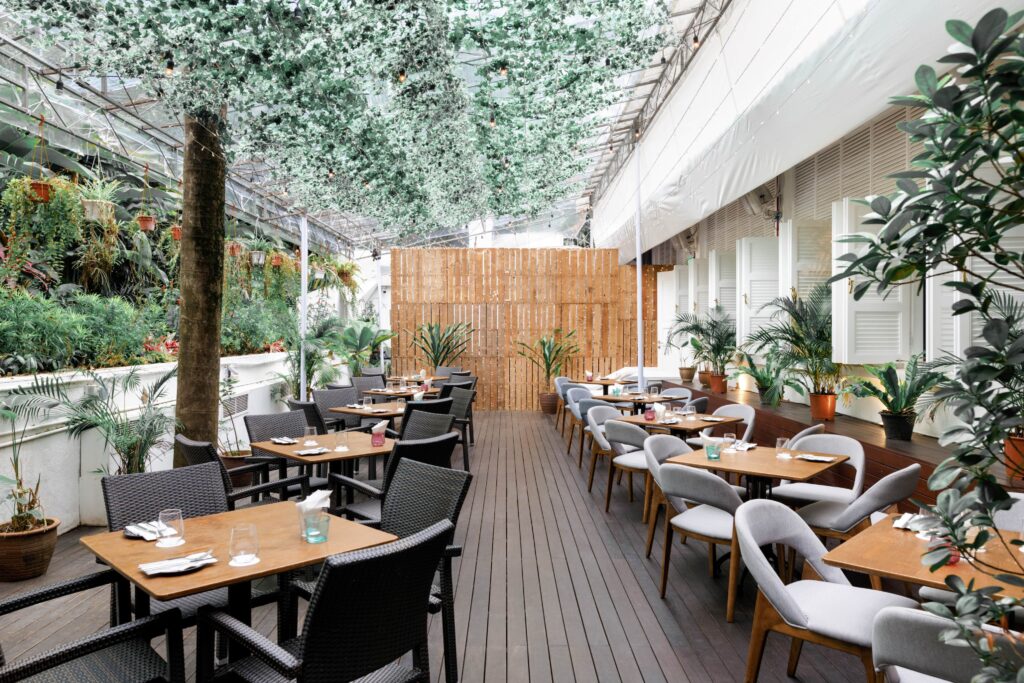 For the year-end festivities, Botanico at The Garage offers a tranquil ambience to enjoy the count-down to a hopefully better year amidst the healing surrounds of the Singapore Botanic Gardens. There's no better place to be than in a lush natural environment that eases you into a calm state of being.
50 Cluny Park Road. Email: reservation@thegarage.sg