Square One – Vietnam & France, the Best of Both Worlds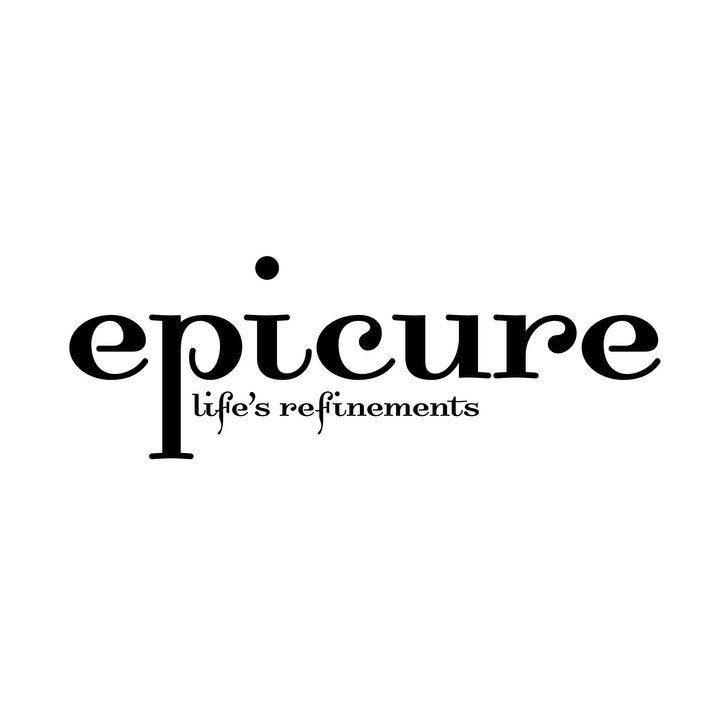 · 4 August 2021
·
Dining
Leading Saigon's culinary scene, Square One, with its five unique dining spaces, is a perfect blend of stylish interior, opulent ambience, contemporary artworks, tip-top service and thrilling culinary adventure. This restaurant is the true embodiment of "the art of dining".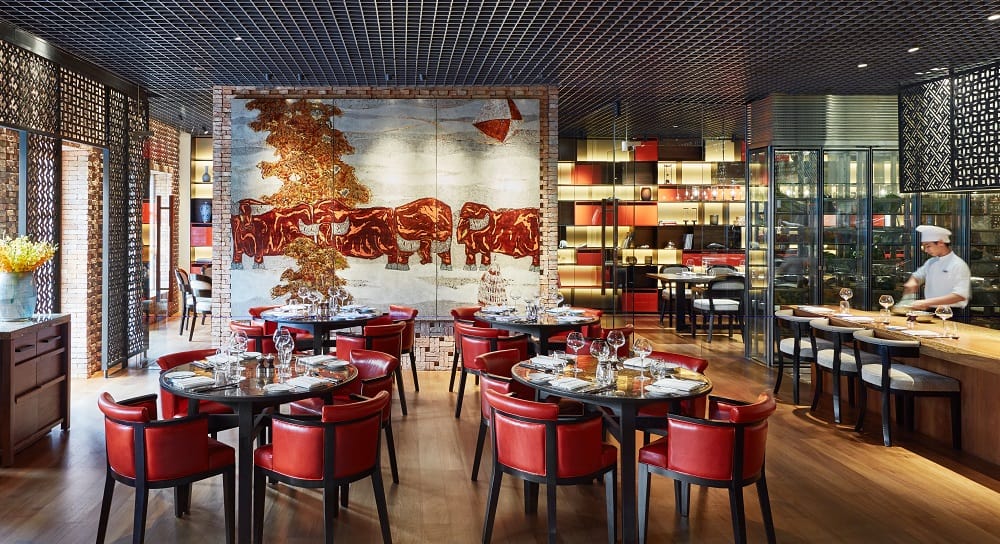 Located in the heart of Saigon, just behind Saigon Opera House on the corner of Hai Ba Trung Street and Lam Son Square, Park Hyatt Saigon is perhaps the most prestigious hotel for discerning travelers visiting the south of Vietnam. Custom designed to feature understated luxury with unparalleled elegance, Park Hyatt Saigon boasts world-class restaurants that welcome you with unsurpassed personalized service, complemented to perfection by truly unique dining experiences.
Center stage is Square One that offers lively and convivial dining ambience with open show kitchens where the restaurant's chefs display their prowess preparing enticing dishes for eagerly awaiting guests. Contemplating impressive Vietnamese contemporary artworks, whether it is profound peace or a shared experience, the restaurant's five exquisitely designed dining spaces will definitely fulfill your every need. Not serving the fusion of French and Vietnamese cuisine like other contemporary restaurants, Square One distinguishes itself by displaying the two different culinary concepts independently so that the refinement of both worlds can be fully preserved.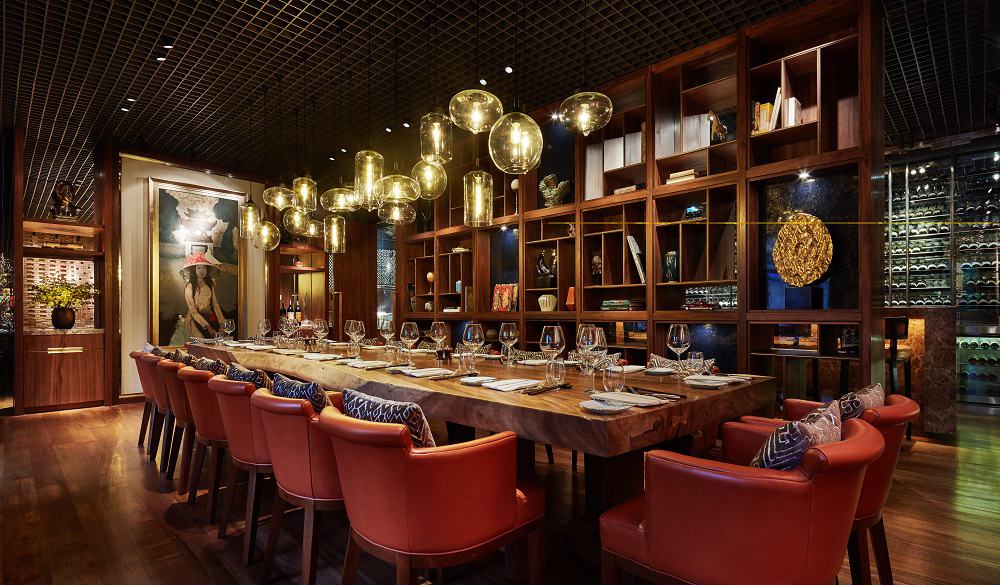 Square One also takes pride in having international awardwinning chefs leading its talents. As constant upgrade and commitment to excellence is what Square One always strives for, every spectacular new dish is the result of the team's meticulous preparation several months before meeting its guests. When paying a visit to Square One, guests will be taken on an exquisite culinary journey amid a modern, trendy and residential atmosphere where its acclaimed Vietnamese Chef de Cuisine and Michelin-experienced French Chef are the hosts who delight their palates. The most recognizable name among the team definitely goes to Adrien Guenzi, who joined Park Hyatt Saigon with a rich portfolio of knowledge and experience gained from working with the world's top Michelin chefs.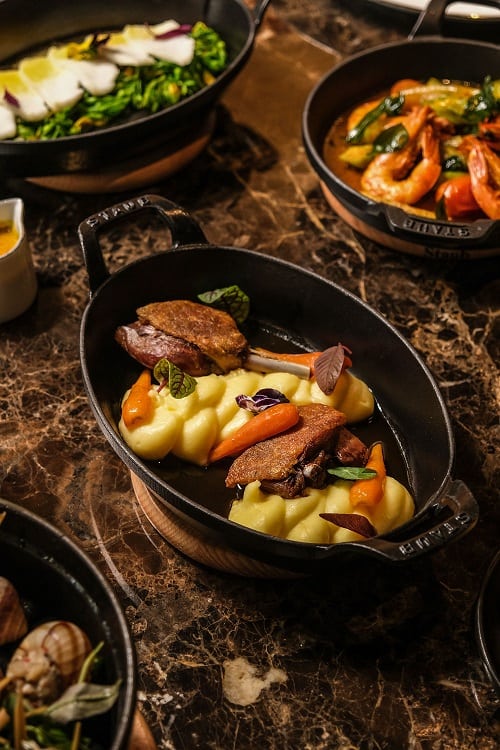 The highlight that makes Square One a remarkable nomination to gastronomes is its signatures. Besides using premium ingredients imported directly from Western countries, Square One is also committed to the highest quality ingredients from responsible local farmers to support a sustainable future. Ca Mau soft shell crab, Phu Quoc fish sauce, Nha Trang oysters and black grouper, and Ben Tre river prawns are all familiar ingredients elevating the chefs' specialties. The restaurant's à la carte menu is rotated seasonally to ensure the exciting flavors of local delicacies from Vietnam and the quintessence of exquisite dishes from the culinary capital of the world, France, are excellently featured. Moreover, every Sunday, Square One offers an exclusive limitless Sunday brunch featuring a wide selection of 31 spectacular Vietnamese and French dishes including seven starters, seven sides and condiments, six main courses, seven sweet treats as well as four Chef Signatures, with gracious tableside service.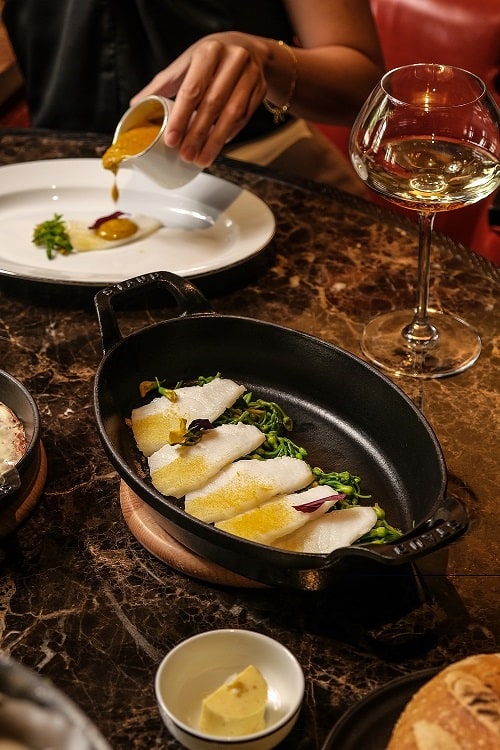 It is not just the art of cuisine captured at Square One, but also the art of wine. Playing as one of the main pillars in every Park Hyatt's DNA, Square One's wine list is the obvious envy for most. A fine collection of more than 200 choices plus a robust selection of handpicked French wine by the glass will undoubtedly win over those who expect nothing but the best. With recommendations from the passionate yet knowledgeable wine expert, every detail of the guests' dining experience has never been more captivating.
As more and more industry players join the scene, there are many restaurants that try hard to impress. However, at Square One there is no need for pretense as the distinctiveness of the food, the top-notch quality of service and the inviting ambience speak confidently for themselves. If you are looking for a memorable dining experience, Square One exceeds expectations.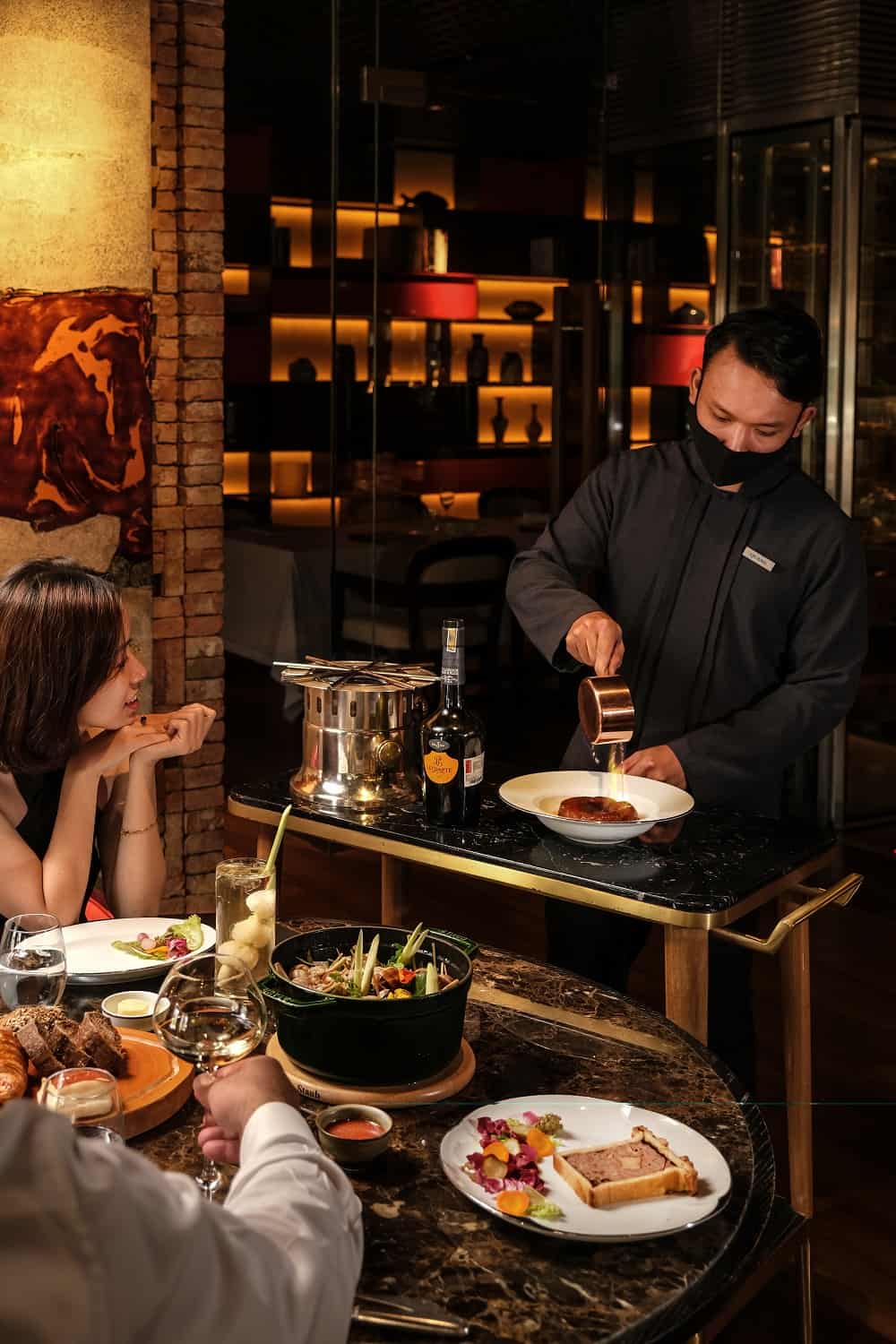 2 Lam Son Square, District 1, Ho Chi Minh City (Saigon), Vietnam
Tel: +84 28 3520 2359
Facebook: https://www.facebook.com/ParkHyattSaigon
Website: https://www.saigon.park.hyattrestaurants.com/vn/square-one.html/
SHARE