Zesty orange chiffon and lime curd cake
ZESTY ORANGE CHIFFON AND LIME CURD CAKE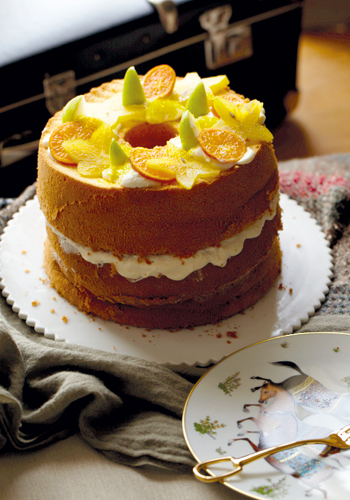 Serves 8 to 10
Prep time 10 minutes
Bake time 1 hour
4 cups cake flour, sifted
3 cups white sugar
2 tbsp baking powder
2 tsp salt
1 cup vegetable oil
14 egg yolks
2½ cups cold water
4 tsp vanilla extract
2 tsp lemon extract
4 tsp orange essence
14 egg whites
1 tsp cream of tartar
4 tsp orange essence
• Preheat oven to 165°C. Wash a 20-inch baking pan with soap to ensure it is entirely grease-free.
• Combine flour, sugar, baking powder and salt, then sift. Make a well in the mixture and add in oil, egg yolks, water, vanilla extract, lemon extract and orange essence, in this order. Set aside; don't beat.
• In a large mixing bowl, beat egg whites and cream of tartar until very stiff. Set aside.
• Using same beater, beat egg yolk batter until smooth and light. Pour slowly over egg whites, folding in with rubber spatula. Do not stir. Pour batter into angel food tube pan.
• Bake for 55 minutes, then increase heat to 175°C and bake for another 10–15 minutes. Invert pan. Let cool, then serve.