Wild rice and black bean salad
WILD RICE AND BLACK BEAN SALAD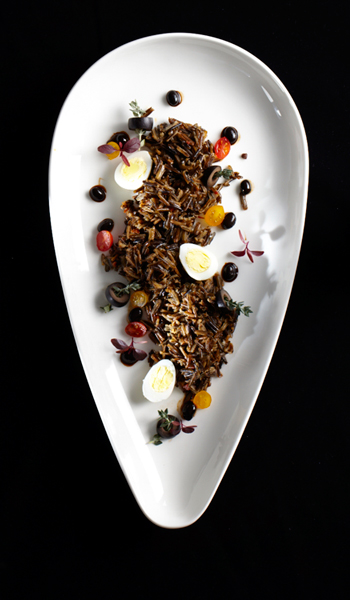 Serves 4 Prep time 30 minutes
Cook time 15 minutes
100g wild rice
135ml chicken broth
20g black beans
20g black-eyed peas
55g chopped green and black olive
40g corn on the cob, boiled
20g sweet gherkins, chopped
80g white onions, diced
1 tbsp white vinegar
pinch of salt and pepper
2 tsp olive oil
1 peach, sliced into wedges
peel from 1 orange, sliced into thin strips
10 quail eggs, cooked
25g mesclun mix
sun-dried tomato pesto
45g sun-dried tomatoes
1 tbsp olive oil
pinch salt and pepper
5g parsley leaves
10g cashew nuts
• Cook wild rice in a rice cooker filled with chicken broth. Set aside to cool.
• Meanwhile, add black beans and black-eyed peas in a pot of boiling water, for about 7 minutes.
• Add sun-dried tomatoes, olive oil, salt, pepper, parsley and cashew nuts into a blender. Blend into a fine purée.
• Combine all the ingredients together, with the exception of mesclun mix, into a big bowl.
• Toss the ingredients. Serve with a side of mesclun. This dish can be served chilled if desired.