Wild mushroom lasagne
While most of us are familiar with a lasagne with minced beef, this meat-free version is just as divine. Rich with a triple-cheese combination and packed with delicious wild mushrooms, this is a lasagne that is light but memorable.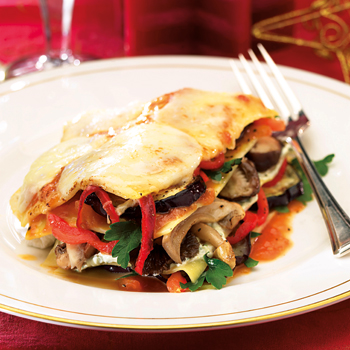 Serves 4-5 Prep time 30 minutes
Cook time 1 hour
2 red peppers, halved
1 aubergine, weighing about 250g, sliced lengthways
salt and pepper
5-6 tbsp olive oil
225g mixed wild mushrooms, wiped and sliced
900g ripe fresh tomatoes
1 red onion, finely chopped
1 clove garlic, crushed
300ml water
2 tbsp dry white wine
1 tbsp tomato paste
10 sheets of fresh lasagne
handful of torn fresh basil
450g Boursin cheese
225g buffalo mozzarella cheese, thinly sliced
85g freshly grated Parmesan cheese
Put the halved peppers on a baking tray and roast for 20-25 minutes, until deflated and slightly charred. Wrap in a clean cloth and leave to cool, then peel off the skins. Discard the core and seeds then thinly slice the flesh.
Sprinkle the aubergine slices with salt, place in a colander, cover and weigh down. Leave for 30 minutes.
Heat about 1 tbsp of olive oil in a frying pan, add the mushrooms and fry until softened.
Put the tomatoes in a bowl and pierce skins once or twice. Cover with boiling water for about 40 seconds then plunge into cold water. Peel off the skins then chop the flesh.
To make the tomato sauce, heat 2 tablespoons of oil in a saucepan. Add the tomatoes, onion and garlic, cover and cook gently, stirring for 10 minutes. Add 300ml water, white wine, tomato paste, salt and pepper. Half cover and simmer for 20 minutes or until the sauce thickens a little. Sieve the sauce if you wish.
Pre-heat the oven to 190°C. Rinse the aubergine slices well and pat dry. Heat the remaining oil in a frying pan and fry the aubergine slices on both sides, until golden. Drain on kitchen paper.
To assemble the dish, put onethird of the sauce in the bottom of a shallow ovenproof dish. Sprinkle on half the basil leaves. Now add half the aubergine slices, pepper slices, lasagne sheets, Boursin cheese and half of the mushrooms, followed by a layer of tomato sauce, more vegetables and lasagne. Repeat these layers, finishing with a layer of tomato sauce.
Cover the dish with the slices of mozzarella cheese and Parmesan cheese and drizzle with a little olive oil. Bake in the oven for 30 minutes, until golden and bubbling.