Warm flourless valrhona chocolate cake, berry compote and bourbon vanilla ice cream
Warm flourless Valrhona chocolate cake, berry compote and bourbon vanilla ice cream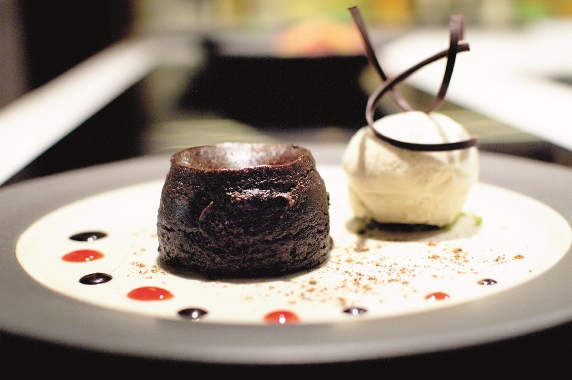 Serves 4
Prep time 20 minutes
Cook time 30 minutes
90g Valrhona dark chocolate (at least 70 percent cocoa)
33ml water
50g sugar
60g unsalted butter, diced and softened
3 eggs (approximately 45g each)
oil or melted butter, for greasing
fresh berries, to serve
bourbon vanilla ice cream, to serve
Break the chocolate into small chunks in a large mixing bowl. Boil water and sugar together to make a simple syrup.
When the sugar has dissolved, pour the syrup over the chocolate and stir until the chocolate is completely melted. Add in the butter, bit by bit.
Crack an egg into the mixture and stir well. Repeat with the remaining 2 eggs. Let the mixture stand to thicken slightly. In the meantime, preheat oven to 160°C.
Brush a thin layer of oil or melted butter on 4 pastry rings or ramekins. Pour the batter until each mould is 2/3 full. Bake for 15 minutes (the cake is done when the cake has a slight shine and its centre is still soft).
Let the cake cool for 5 minutes. Then unmould and serve with fresh berries and a scoop of bourbon vanilla ice cream.