Waldorf salad dessert
Forget everything you know about this iconic salad. It's re-imagined here as a dessert that's every bit as refreshing as it sounds.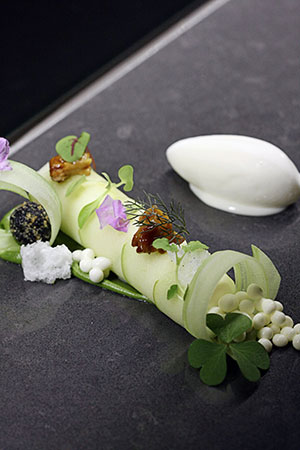 Serves 2-4 Prep time 2 hours 30 minutes
Cook time 40 minutes + overnight set time
components
white chocolate whipped ganache
candied peeled walnuts
raisin balls
apple cannelloni
buttermilk sorbet
celery curls
green herbs and flowers
white chocolate whipped ganache
300g whipping cream
200g Valrhona Ivoire chocolate, roughly chopped
12g trimoline
12g glucose
Heat the cream, trimoline and glucose together and bring to a boil. Pour over the white chocolate and whisk to emulsify. Using an immersion blender, blend the mix with trimoline and glucose till smooth and free of bubbles. Leave to set overnight before whipping.
candied peeled walnuts
750ml white wine
750ml water
35ml lemon juice
200g sugar
100g walnuts, peeled
Combine all the above ingredients (except walnuts) to make a white wine syrup.
Toast peeled walnuts in a 180°C fan oven for 5 minutes. Leave to cool.
In a wide and shallow saucepan, scatter toasted peeled walnuts in one layer.
Pour white wine syrup over till it just covers the layer of walnuts.
Bring the solution to a boil and reduce to a simmer for about 25 to 30 minutes or until the mixture is the consistency of syrup.
Strain excess liquid and lay walnuts on a baking tray lined with parchment paper.
Bake at 125°C for 25 minutes or until you achieve a dark caramel coating on the walnuts. Store in a cool and dry place.
raisin balls
100g dark raisins
In a food processor, blitz the raisins until you achieve a sticky mass. Roll them into tiny balls and set aside till needed.
apple cannelloni
1 Granny Smith apple
pinch ascorbic acid
200g sugar
200ml water
Using a mandoline, slice the green apple thinly to a thickness of about 1mm.
Add a pinch of ascorbic acid (or your may use lemon juice, this is to prevent oxidation on the apples) to some water and soak the apple slices in it for 5 minutes.
Bring the sugar and water up to a boil and remove from heat. Poach the apple slices in the hot solution until it is pliable and ice bath it to prevent it from cooking any further.
Lay a piece of clingwrap flat on your work surface and arrange the apple slices neatly in a horizontal row, overlapping them slightly.
Using the whisk attachment of a stand mixer, whip white chocolate ganache made the till medium stiff peaks form. Transfer to a piping bag fitted with a 14mm plain round nozzle.
Pipe the ganache in the centre and across the apples and using the clingwrap, roll it up tightly.
Leave to set in the refrigerator for about 1 hour.
Using a sharp knife, trim off the ends and place on a plate of your choice.
celery curls
2 stalks celery
Using a peeler, peel the celery lengthwise and refresh in ice water till required.
buttermilk sorbet
5g pectin NH
84g sugar
210ml milk
67g trimoline
80ml lemon juice
500g buttermilk
Mix pectin and sugar together and blend into the milk using an immersion blender.
Add in the trimoline and bring to a boil for about 1 minute to activate the pectin.
Ice bath the mixture till cool and blend in the lemon juice and buttermilk till homogenous. Churn the mixture till desired consistency.
To assemble, place apple cannelloni on a plate and garnish with various herbs and flowers, raisin balls, celery curls and peeled candied walnuts, giving the plated dessert a "natural" feel to it. Top it off with a quenelle of buttermilk sorbet and serve immediately.