Vanilla and passionfruit cookies
Tangy passionfruit filling complements crisp sweet cookies for a lovely teatime treat.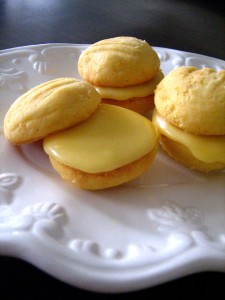 Vanilla and Passionfruit Cookies
Makes 35 cookies
Prep time 10 minutes
Cook time 15 minutes
Vanilla cookies
175g unsalted butter, softened
50g icing sugar, sifted
1 tsp vanilla essence or paste
175g plain flour, sifted
50g custard powder, sifted
Passionfruit icing
200g icing sugar, sifted
1 tbsp custard powder, sifted
1 tbsp unsalted butter, melted
Pulp from one passionfruit
Boiling water
In a large bowl, cream butter and icing sugar, using a plastic spatula, until colour turns pale. Then add vanilla essence or paste. Stir until well-combined with the mixture.
Add the sifted plain flour and custard and mix until you get a soft dough.
Roll into small and even-sized balls (a little smaller than golf balls), then place on greased trays. Flatten the dough gently with a fork, so you get disc-shaped cookies with lines running across.
Bake at 180°C for 10 to 15 minutes. Cookies are ready when the edges start to brown.
Leave to cool on a baking rack.
To make icing, combine icing sugar and custard powder in a bowl. Add melted butter. Strain passionfruit pulp, discard the seeds and add juice to the mixture. Stir until well-mixed. If required, add a tablespoon of boiling water at a time, until you reach a spreadable consistency.
Sandwich cooled passionfruit icing with two vanilla cookies.