· 25 September 2020
RATINGS
TYPE OF MEAL
Mains
DIFFICULTY
Easy
SPEED
Quick
RECIPES
Udang Lemak Masak Nanas by Violet Oon
When it comes to Peranakan cuisine, Chef Violet Oon has been a stalwart for elevating this fine cuisine and has been a vocal ambassador for preserving its culture and heritage. With a Nyonya dish, she prefers "the presentation to be reflective of its natural ingredients, so I like to serve with the stalks of cooked lemongrass and the kaffir lime leaves. It adds a lovely rustic feel to the dish and your fellow diners will know you have used the "real natural stuff" instead of a dry powder form".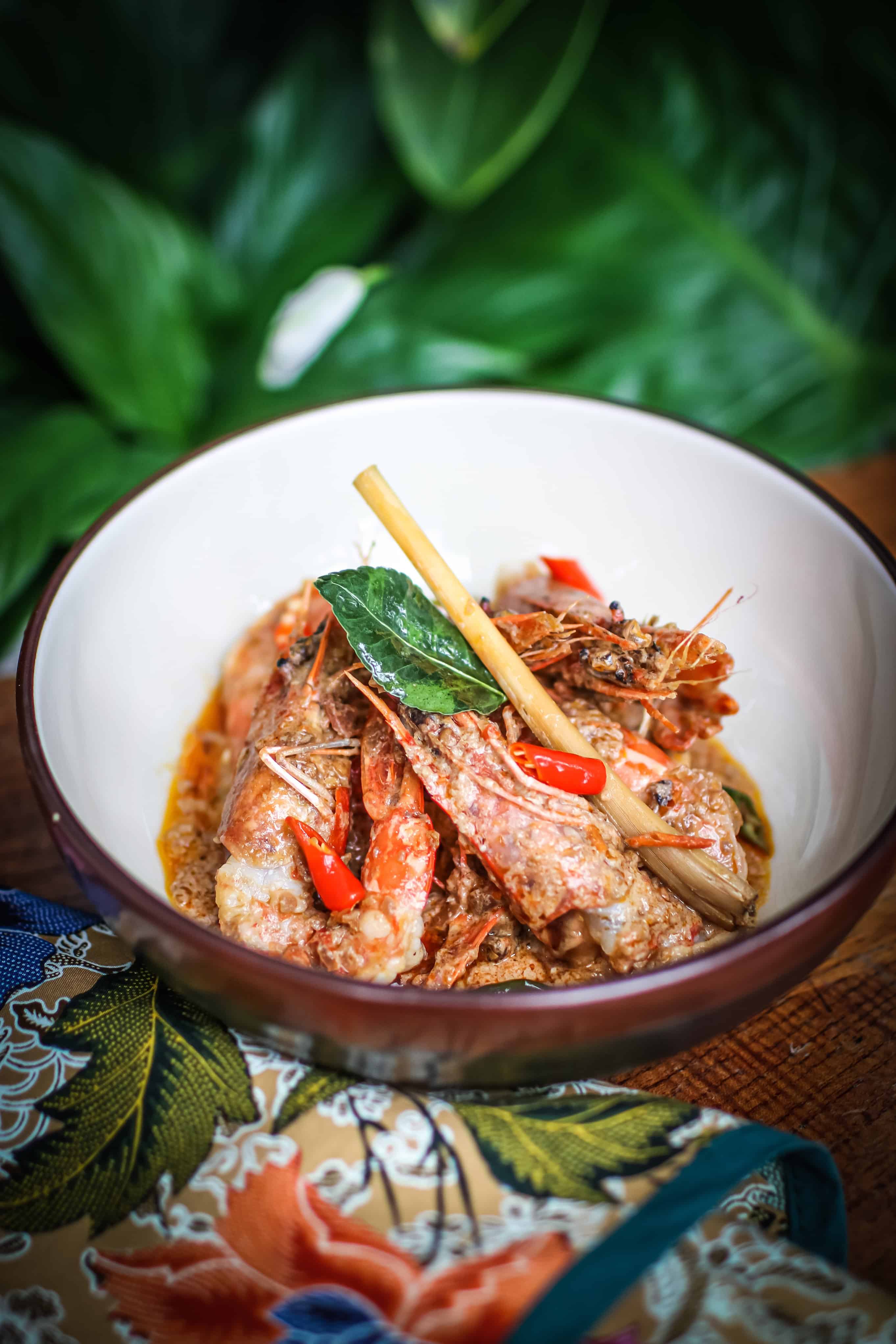 Serves 2 – 3 (as part of a meal eaten with rice)
Prep Time: 15 mins
Cook time: 3-4 mins
Udang Lemak Masak Nanas
500g Ready-peeled prawns, with head and tails left on
100g Violet Oon Singapore Sambal Bajak spice mix
2  Whole lemon grass, cut into 2 each and smashed lightly
4 Kaffir lime leaves, broken into 2-3 each leaf
80g Pineapple slices, optional
200 ml Coconut cream
½ tsp Sugar
Wash prawns well, pat dry.
Heat a wok on high heat for about 1 minute, add the Violet Oon Singapore Sambal Bajak spice mix, along with the oil in the sambal.
Add the lemon grass and kaffir lime leaves and stir fry for a few seconds on high heat till you feel like sneezing from the sambal aroma and you should be able to smell the lemon grass and kaffir lime leaves too.
Add the prawns and pineapples and stir fry for about 30 seconds till the prawn colour changes and then add the coconut cream and sugar.
Simmer for 1-2 minutes till the sauce thickens and the prawns are cooked.
Serve with steamed jasmine rice or nasi lemak coconut rice and a salad or fried vegetables.
Serves 2-3 as part of a family meal.
Tips:
• Buy either red leg prawns called "ang Ka" or Tiger prawns with shells, heads and tails intact. For 500g peeled prawns, you need 800g whole prawns about 40g each.
• Store immediately in freezer to avoid further deterioration of freshness.
• Peel off the shell from the body but leave the head and tail on. Then cut down the back to remove the black intestinal vein in the prawns. Even if you cook a whole prawn with shell, make a slit into the shell and flesh down the back and remove the intestinal vein with the sharp point of a knife or with a toothpick.
• To release the aroma of the lemongrass and kaffir lime leaves, smash open the lemongrass stalk with the back of a cleaver and break the leaves of the kaffir lime leaves.
• With ready cooked "rempah" which has been cooked ahead of time, like from a bottle, you should always "refresh" the spice mix by stir frying till you feel like sneezing. This refreshes the aromas of the spice mix.
• When you add coconut cream, make sure it comes to the boil.
SHARE