Tomato bruschetta with anchovies and basil
Vegetarians will appreciate these meaty mushrooms, marinated in balsamic vinegar, chilli powder, sherry and herbs for a tangy and spicy touch.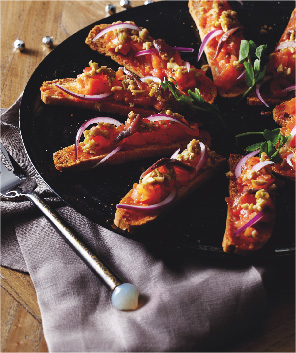 Serves 4 Prep time 15 minutes
Cook Time 20 minutes
7 ripe Roma tomatoes, with a small 'X' incision cut on the bottom of each bruschetta mix
4 tbsp white onions, finely diced
50g green pitted olives
50g black Lalamata olive
pinch salt and freshly cracked pepper
30g canned anchovies
1 tbsp chopped basil
1tbsp olive oil
garnishes
1 clove garlic, halved
15 slices herb flat bread, toasted till crisp
1 tbsp green olives, chopped
1 red onion, thinly sliced
Combine all the ingredients for the bruschetta mix well, season and set aside.
Heat a pot of water to the boil, turn off the heat, add in the tomatoes and let sit in the hot water for 12 seconds.
Drain off the water, cool the tomatoes for 3 minutes, peel off their skins and deseed.
Cut the tomatoes to 1cm by 1cm cubes.
Combine the bruschetta ingredients together with the tomatoes in a bowl.
Rub the garlic glove over the toasted bread and top with tomatoes, bruschetta mix, chopped green olives and sliced onions.