Tomato braised sausages on parmesan mash
Sausages are a guilty pleasure, so counter its fattiness with the more wholesome addition of tomatoes, carrots, mushrooms and herbs.
Serves: 5 – 6
Prep Time: 20 minutes
Cook Time: 1 hour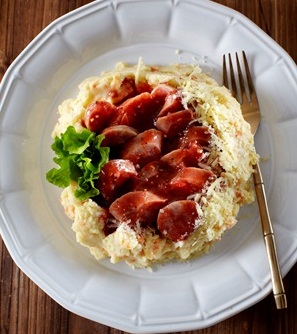 parmesan carrot & potato mash
6 large potatoes, peeled
3 carrots, peeled
1 tbsp whipped heavy cream
¾ cup finely grated Parmesan cheese
1 tbsp olive oil
500g bratwurst sausages, sliced
500g beef sausages, sliced
1 large onion, sliced
4 cloves garlic, finely chopped
150gm shitake mushrooms
1 cup of red wine
¼ cup balsamic vinegar
500gm organic chunky tomato puree
1 tsp dried oregano
1 tsp dried basil
1 tbsp organic brown sugar
½ tsp sea salt
pepper to taste
Steam the peeled potatoes and carrots until soft. Leave it to steam dry for about 5 minutes. Add cream & Parmesan after mashing. Mix well.
Heat olive oil in a pan on medium heat. Add the sausages and fry until brown. Set aside.
Reduce heat to low medium and add onions. Stir occasionally until caramelised. Add in garlic and mushrooms and fry until soft. Pour in the red wine and vinegar, then cook until reduced by half. Stir in tomato puree, herbs, sugar and sea salt, bring to a simmer, then add sausages. Cook until sauce is thick (about 10 minutes).
Spoon the mash onto a large serving plate. Make a well in the centre and pour in the sausages. Serve hot.