Swiss chocolate cake by dr.CAFE
Savour the soft textures of dark chocolate sponge, layered with bittersweet velvety chocolate mousse and coated in chocolate ganache.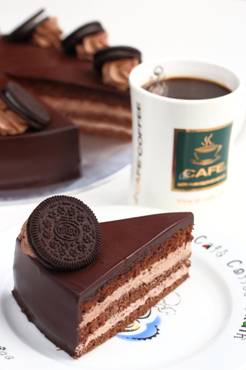 Serves 12 Prep time 30 minutes + overnight chill time
Cook time 25 minutes
50ml fresh whole milk
250ml topping cream or sweetened whipping cream
25g unsalted butter
150g dark chocolate couverture
10-inch chocolate sponge cake (approximately 600g), sliced into 3 even layers
To make the chocolate ganache, combine the milk, 100ml topping cream and butter in a medium saucepan over low heat. Bring to a gentle boil.
As soon as the mixture comes to a boil, remove the pan from heat and stir in the dark chocolate couverture. Stir until well incorporated.
Let cool and fridge overnight for it to develop a thick, creamy consistency.
To make the chocolate mousse, measure out 150g of chocolate ganache and combine with remaining topping cream. Beat until light and fluffy.
Spread the mousse between each layer of chocolate sponge, then freeze the cake for 3 hours.
Coat the outsides of the cake with reserved chocolate ganache.