Sweet pea and mint ice cream with peanut brittle and coconut
The staple of peas and mint reminds me very much of my time in the UK and is one of my favourite things to eat; minty mushy peas is delicious.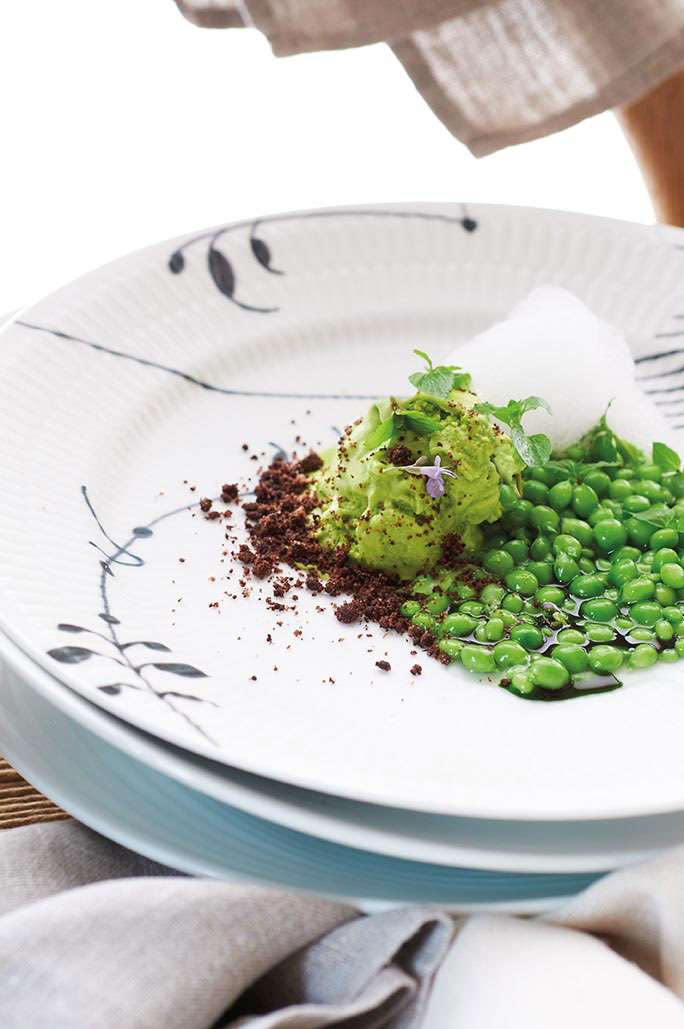 Serves 6 Prep time 60 minutes + overnight freezing time
Cooking time 30 minutes
sweet pea and mint ice cream
1kg Bird's Eye frozen garden peas
200ml whole milk
300ml whipping cream
3 eggs
100g unrefined caster sugar
30g spearmint leaves
• Blanch frozen peas for 3 minutes then submerge into iced water. Drain and process in a blender before passing the peas through a fine sieve over ice to get a purée.
• Bring milk and cream to a boil in a pot. Whilst doing so, beat the eggs and sugar in a bowl until foamy. Gradually add milk and cream mixture into the bowl of eggs and sugar.
• Cook over low heat for 10 minutes, stirring constantly. Once thickened, cool over ice.
• When cold, add the pea purée and spearmint leaves. Cover and leave to infuse in the fridge for 24 hours before processing in a blender and passing through a fine sieve.
• Pour into an ice cream machine and follow the manufacturer's instructions.
sugar snap pea salad
750g sugar snap peas, podded
• Sort sugar snap peas into large and small sizes.
• Blanch larger sized peas for 45 seconds and smaller sized ones for 30 seconds before submerging immediately into iced water. Drain and leave to dry on paper towels.
peanut brittle
100g unrefined caster sugar
50g water
10g glucose
100g peanuts
• Boil sugar, water and glucose in a pot and heat to 160°C, then pour syrup over peanuts and leave to harden.
• Once hardened, process in a food processor to a fine powder.
coconut air
200ml coconut water (from a young Thai coconut)
3g lecithin (available in the health food section of a good supermarket)
• Strain coconut water through a fine sieve. Add lecithin and blend with a stick blender till dissolved.
mint oil
30g spearmint leaves
5g flat-leaf parsley, picked
10g unrefined caster sugar
40ml grapeseed oil
• Blanch the herbs for 15-20 seconds then submerge immediately in a bowl of iced water. Drain and dry on paper towels.
• Process all ingredients in a food processor for 5 minutes and strain through a fine sieve.
garnish
30g fresh pea shoots
pea flowers if available
mint flowers if available
• Blitz the coconut air with a stick blender to create froth and assemble on a dish. Scatter peanut brittle, pea shoots, pea and mint flowers on top of sugar snap pea salad and drizzle mint oil around the plate to finish.
Han says: "The staple of peas and mint reminds me very much of my time in the UK and is one of my favourite things to eat; minty mushy peas is delicious."