Sunken chocolate soufflé with prunes and armagnac
If you are looking for a way to delight guests at your next dinner extravaganza, whip up this delectable dessert to impress them. Substitute Armagnac with port, rum or cognac for macerating the prunes.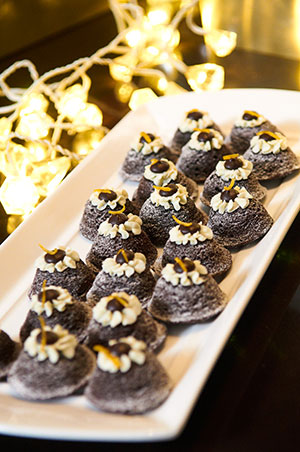 Serves 30 Prep time 30 minutes + 1 hour soak time
Cook time 20 minutes
sunken chocolate souffle
75g prunes, chopped
30ml Armagnac
350g dark chocolate (70%) couverture, chopped
150g unsalted butter, chopped
185g caster sugar
¼ cup strong espresso coffee
50g self raising flour, sifted
35g Dutch cocoa, sifted
4 eggs, separated
whipped cream topping
1 cup whipping cream
2 tbsp icing sugar
Soak prunes in Armagnac for 1 hour. Melt chocolate, butter, 110g of caster sugar and coffee in the top of a double saucepan or in a heatproof bowl over simmering water until smooth and glossy. Remove from heat and let stand for 5 minutes.
Combine sifted flour and cocoa into chocolate mixture and mix well. Add egg yolks, chopped soaked prunes (reserving a small amount for cake topping) and mix well.
Whisk egg whites until soft peaks form. Add remaining sugar and continue whisking until soft peaks form. Fold egg white mixture into chocolate mixture, a third at a time.
Spoon mixture into mini silicon moulds (1.5-inch diameter) and bake at 180°C for about 12 to 14 minutes. The centres should still be a little moist.
To make topping, whip cream until firm. Add icing sugar and reserved soaked prunes and mix well. Pipe a small amount on the cake and dust with icing sugar before serving. Cakes will keep well in an airtight container for three days.