Sumac marinated scallops with linguine in prawn oil
Sumac's wonderful tangy flavour takes on a slight, smoky taste when seared with the scallops so use it sparingly.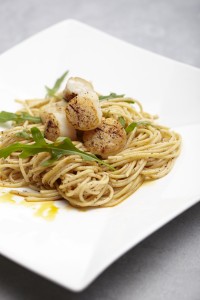 Serves 2 Prep Time 5 minutes + 1 hour marinating
Cook Time 20 minutes + 50 minutes for prawn oil
prawn oil (to be made in advance):
1kg prawn shells
200ml olive oil
2 cloves garlic
1 tsp paprika
Fry 1kg prawn shells in a non-stick pan, 20 minutes on high heat or bake in the oven, 40 minutes at 150˚C. Make sure prawn shells are dry without any remaining liquid.
Crush prawn shells with a spatula and add into a saucepan filled with 200ml olive oil. Add garlic and paprika. Bring to a boil. Reduce heat after simmering for 30 minutes.
Let cool. Remove prawns shells and sieve the oil into a jar. Seal and store in the fridge till it's ready to be used.
8 fresh scallops
2 tbsp sumac powder (from Culina or jones the grocer)
200g linguine
3 tbsp olive oil
4 tbsp prawn oil
pinch salt
arugula, optional
Rinse scallops and pat dry with towel.
Coat scallops with sumac. Leave the marinated scallops for 1 hour.
Cook linguine in boiling water according to packet directions.
Heat up a non-stick pan with olive oil. Make sure the pan is hot before adding the scallops. Pan-sear the scallops for 1.5-2 minutes on each side, taking care not to move the scallops while they are being cooked. Set the scallops aside.
In the same pan, add linguine and cook for 3 minutes. Toss well.
Drizzle prawn oil over linguine 1 minute before it's ready. Toss evenly so that prawn oil coats the linguine evenly. Season with salt.
Serve linguine with marinated scallops. Garnish with arugula.