Stuffed eight treasures duck
As the name suggests, this Teochew traditional recipe (also known as Ba Bao Ya) is stuffed with an aromatic combination of eight ingredients. The intense fragrance that wafts out once you slice into the duck cavity is simply irresistible.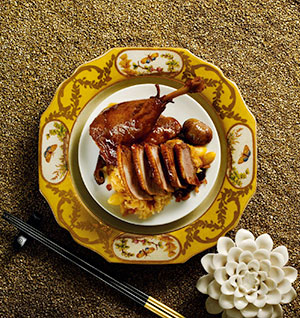 Serves 6-8 Prep time 20 minutes
Cook time 1 hour 15 minutes
8 tbsp rock salt
1 duck, rinsed with salt water and pat dry (2-3 kg)
8 tbsp caster sugar
8 cups water
1 cup dark soya sauce
6 stalks lemongrass, smashed and bruised
4 inch galangal (blue ginger)
9 cloves
4 tsp black peppercorns
8 star anise pods
4 cinnamon sticks
stuffing
½ cup glutinous rice
5 dried shiitake mushrooms, soaked and thinly sliced
¼ cup chestnuts, shelled
¼ cup gingko nuts, shelled
¼ cup lotus seeds
1-2 stalks green onions
1½ cups water
½ cup bamboo shoots
1 tbsp raw dried shrimps
2 tbsp soya sauce
1 tbsp rice wine or dry sherry
dipping sauce
2 garlic cloves
1 red chilli
3 limes, juice extracted
1 tbsp white vinegar
2 tsp sugar
pinch salt
garnish
Chinese greens, pre-blanched
Rub 2 tbsp of rock salt over the duck and its cavity.

Caramelise 4 tbsp of sugar with 2 tbsp of water till golden brown in a pan. When it is cooled, rub all over the duck.

Combine the stuffing ingredients and mix well. Stuff firmly into the duck.

Add remaining sugar and water, dark soya sauce, lemongrass, galangal, cloves, peppercorns, star anise and cinnamon sticks in a big stock pot. Bring to a boil and simmer.

Reduce the heat to low-medium and gently lower the duck into the pot. The liquid should cover the whole duck.

Cover half of the pot with a lid and simmer for another 50 to 65 minutes, or until the meat is tender. The bone should fall off the duck easily when you pull its leg.

Turn off the heat and leave the duck for another hour before serving.

Pound the garlic and chillies in a mortar. Add lime juice, vinegar and sugar. Season with salt and mix well.

Serve dipping sauce with duck, stuffing and Chinese greens.