Stewed red mullet with dk7 spice blend
You can also serve this stewed red mullet with boiled potatoes, as fish always goes well with a starch component.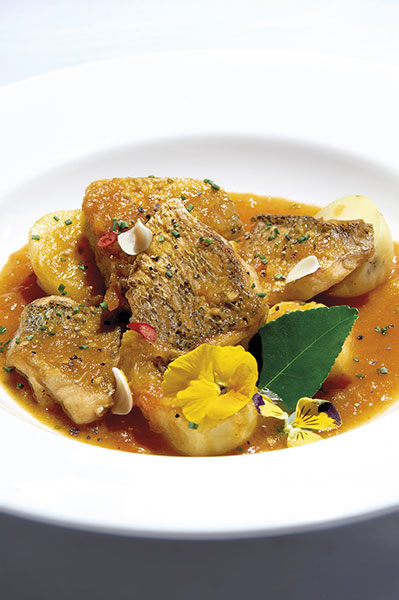 Serves 10
Prep time 20 minutes
Cook time 25 minutes
1 tbsp cooking oil
1kg boneless red mullet
3 tbsp DK7 spice blend
1litre water
1 stalk pandan leaves
1 lime leaf
1 stick lemongrass
300g freshly chopped tomatoes
50g toasted shredded coconut
salt and pepper, to taste
Heat a frying pan with oil, and sear the fish till golden brown. Then remove it from frying pan and set aside.
In the same pan, add DK7 spice blend, water, pandan leaves, lime leaf, lemongrass and bring to a boil.
Add the seared mullet into the boiling stock, turn heat to medium, and simmer for 15 minutes.
Add tomatoes and coconut into the mixture and bring to a boil again. Simmer for 10 minutes.
Season with salt and pepper. Ready to serve.