Steamed white belly fish with salted vegetables and chilli-garlic-soya sauce
Come Lunar New Year, these fish—a staple in most Teochew homes during the festive season—are laden with roe, adding an extra savoury punch to the accompanying chilli, garlic and soy-sauce dip.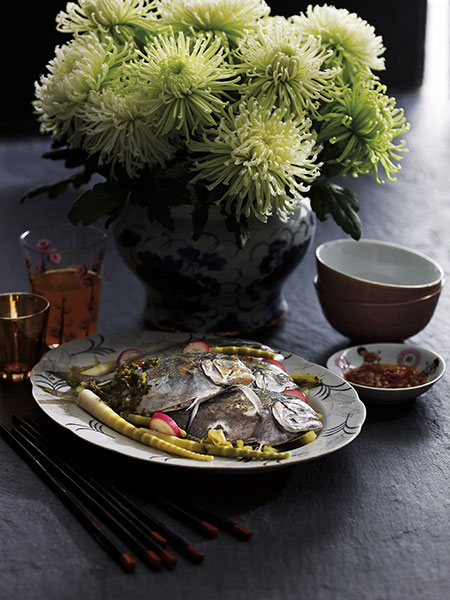 Serves 4
Prep time 10 minutes
Cook time 25 minutes
tomato-plum jam
75g red shallots, finely diced
150g cherry tomatoes, cleaned and halved
6 salted plums, deseeded and finely puréed
½ cup rose wine
½ cup water
pinch salt and pepper
2 tomatoes, skinned, deseeded and cut into 1cm strips
5 white belly fish (pek tor he) fillets
½ cup salted vegetables, washed and soaked in water for ½ hour
garnish
100g pickled bamboo shoots
80g salted vegetables, chopped
5 white-red radishes, cleaned and cut into bite-sized pieces
chilli-garlic-soya sauce
2 red chillis, deseeded and thinly sliced
1 tbsp light soya sauce
2 tsp salted beans (tau cheo), smashed
To make the tomato-plum jam, heat up a pan with oil and fry the shallots until softened.
Add in the rest of the ingredients for the jam and fry on low heat until the liquid is almost dry. Use a hand blender and purée the mixture.
Layer the tomato strips on a large plate. Place the fish on top and cover with the salted vegetables, tomato jam and garnishes.
Bring water to boil in a wok then place the plate with the fish inside the wok to steam.
Steam covered for 4-7 minutes or until cooked (test by poking a chopstick in the fish—the flesh should have turned white).
Mix ingredients for the chilli-garlic-soya sauce and set aside for dipping.