Steamed green spinach leaf with scallop dumpling
STEAMED GREEN SPINACH LEAF WITH SCALLOP DUMPLING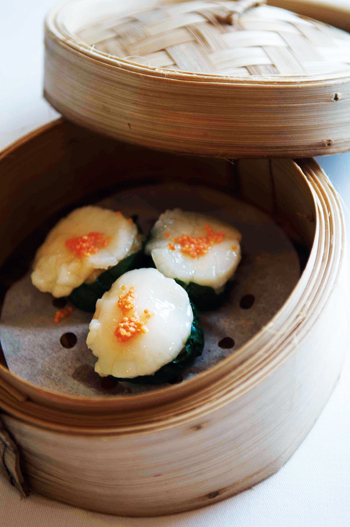 Serves 4 Prep time 20 minutes
Cook time 5 minutes
5pcs scallops (set aside 2 pcs for garnish, dice the remainder)
20g button mushrooms, diced
20g Chinese spinach leaves
seasoning
10ml truffle oil
½ tsp corn flour
5ml sesame oil
1 egg, beaten
½ tsp salt
½ tsp sugar
• Marinate scallops and button mushrooms with truffle oil. Next, season the marinated items with seasoning ingredients. Mix well and split into 4 equal portions.
• Using a round cookie cutter or scissors, cut the spinach leaves into circles, about the size of a tin can bottom.
• Blanch spinach leaves in hot water and transfer to a bowl of cold water for them to cool down. Leave aside to air-dry for an hour.
• Slice the remaining 2 pieces of scallop into half, to get 1-2cm thick discs.
• Separate spinach leaves and spread open. Spoon one portion of scallop and mushroom filling onto the centre of each leaf (use the underside). Fold sides up to form a cup. Dust sliced scallops with a little corn flour and top each spinach cup with half a scallop.
• Place dumplings in a bamboo steamer and steam on high heat for 5 minutes.
• Remove from steamer and serve immediately.