Simmered japanese black pork
For intense flavour, add crab and lobster shells to your fumet or seafood stock.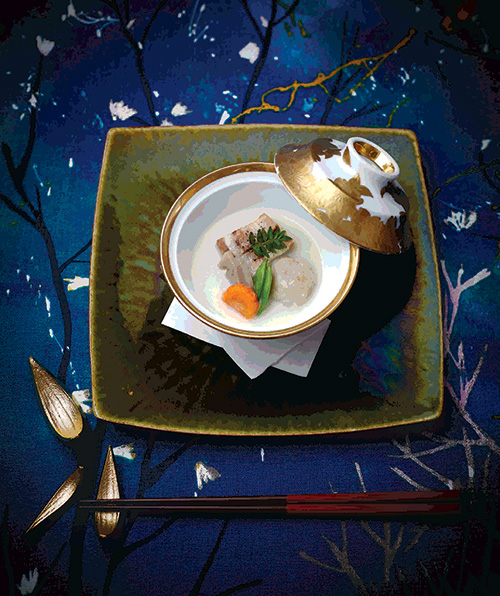 High in protein, soy and pork belly are beneficial for health and beauty.
Serves 1 Prep time 20 minutes
Cook time 2 hours
100g black pork belly
20g Japanese baby yam
10g lotus root
50g Japanese leek
10g carrot
2 pieces flat snow peas
300ml pure soy milk
200ml water
50ml cooking sake
10g salt
pepper, to taste
Cut black pork into 4 cubes of 3 cm by 3 cm. Pan fry with oil until pork skin turns golden-yellow, about 2 minutes. Remove pork from pan and place into a pot of boiling water for 5 minutes. Remove and put in ice-cold water.
Cut yam, lotus root, leek and carrot into small cubes of 1 cm by 1 cm.
In a small pot of boiling water, add snow peas and a pinch of salt. Cook peas for 1 minute, remove and put in ice-cold water.
Add soy milk and water into a pan and boil. When boiling, add pork and cubed vegetables and slow boil for 2 hours. Add cooking sake. Season with salt and pepper.
To serve, dish out ingredients into a bowl and add snow peas.
Read more in the October 2015 issue of epicure.