Seafood capellini with oregano pesto
With its therapeutic qualities, herbaceous character and compatibility with most sauces, it is no wonder why oregano is such an indispensable herb for the home cook.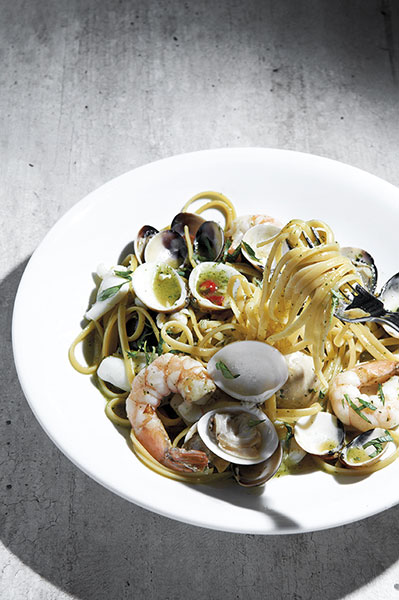 Serves 1
Prep time 10 minutes
Cook time 15 minutes
800ml water
1 tsp salt
40g capellini
2 tbsp olive oil
1 chilli padi, diced
1/2 tsp garlic, chopped
prawns, to taste
squid, to taste
clam, to taste
splash of white wine
100ml chicken stock
60ml oregano 'pesto' sauce
1/2 tsp chives, finely chopped
Fill a pot with water, add salt and cook the capellini for 10 minutes or till al dente.
In a separate pan, heat the oil on medium heat, and fry the chilli padi, garlic, prawns, squid and clams for 1 minute. Add the white wine and chicken stock into the pan and bring to a boil.
Drain the capellini and add them into the stock. Add chives and toss the pasta. Serve with oregano 'pesto' sauce.