Sake-miso beef steak with cabbage and plum salad
Slather your steak with sake-miso sauce for a Japanese influence on the American favourite. A side of cabbage and plum salad refreshes and renews your palate. Round two, anyone?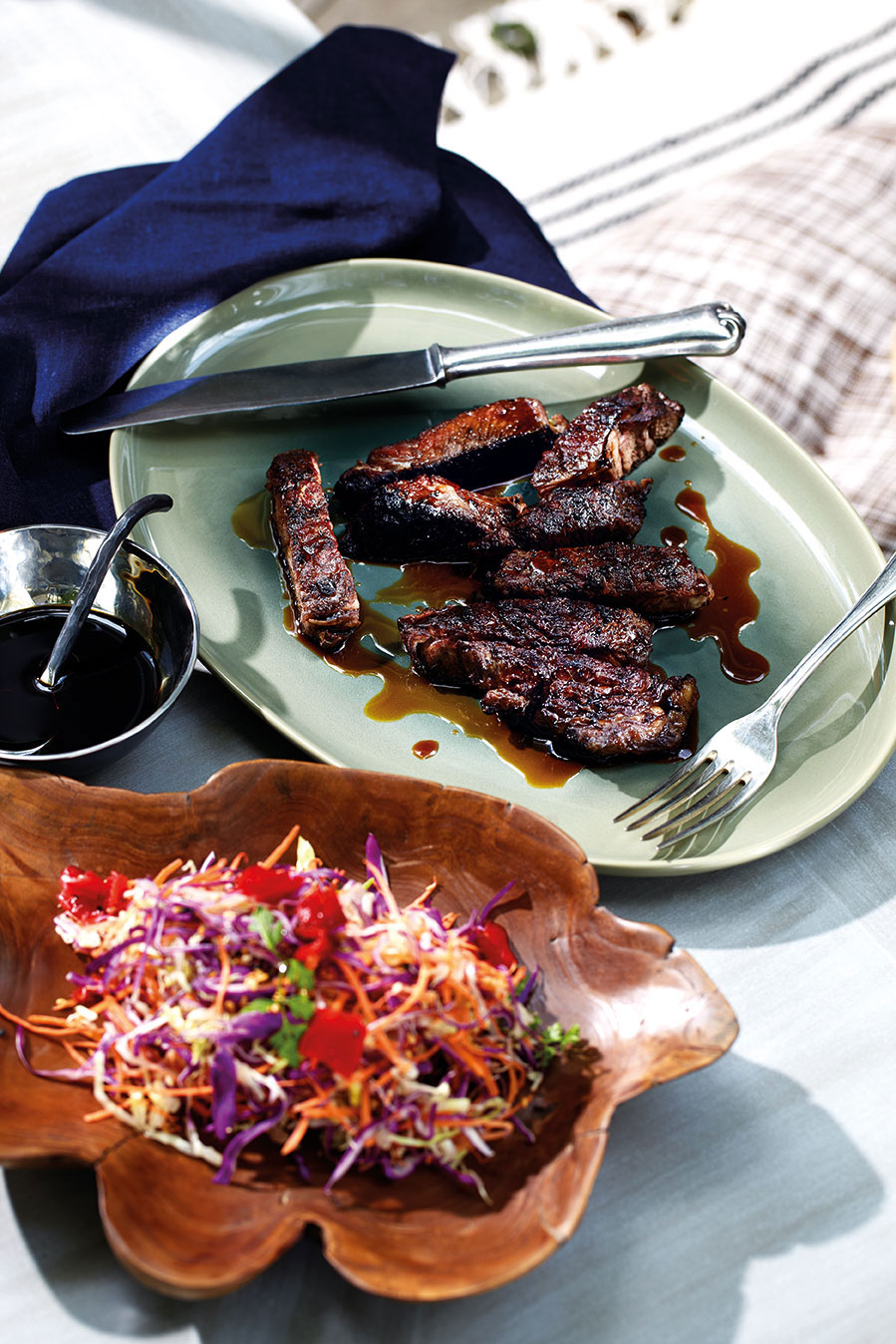 Serves 2 Prep time 10 minutes Cook time
18 minutes + 12 hours marinating time
350g ribeye steak
marinade
½ cup sake
2 tbsp dark red miso
1 tsp white shoyu
1 tsp dark brown sugar
1 tsp chilli flakes
2 tsp sesame seeds, toasted, crushed then ground
1 tsp spring onions, chopped (only use white section)
sake-miso sauce
¼ cup cream
salt and pepper to taste
cabbage and plum salad
65g white cabbage, thinly sliced
85g red cabbage, thinly sliced
35g white onions, thinly sliced then soaked in ice water
35g Japanese plum, thinly sliced
pinch salt and pepper
Pat dry steak. Combine all marinade ingredients, then coat generously onto steak. Marinate for 12 hours, or overnight.
Scrape off marinade. Reserve excess.
Heat grill till red hot, then grill steak for 3 minutes on each side. Repeat process another 2 times. Set aside.
To make sauce, pour reserved marinade into a small pot and add cream. Bring to a soft boil for 3-5 minutes, then season to taste with salt and pepper.
Lightly toss all ingredients for cabbage and plum salad. Serve as a side with beef and sake-miso sauce.