Roasted maitake mushroom soup with laksa leaves and shallot chilli oil
The clear mushroom soup is just what you need on a rainy day. Add a few laksa leaves and what results is an unexpectedly lemony punch to the broth.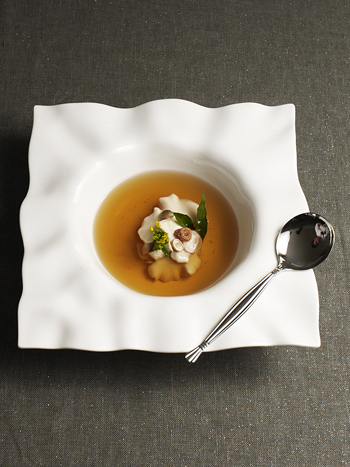 Serves 4 Prep time 10 minutes
Cook time 30 minutes
250g Maitake mushrooms (available at Japanese supermarkets)
1 tbsp extra virgin olive oil
pinch rock salt
Mushroom broth
1 tbsp olive oil
50g white onions
100g oyster mushrooms
100g button mushrooms
1 cup premium rice wine
2 spring onion stalks
40g fennel bulb, sliced
5 laksa leaves, crushed
1 litre water
Shallot oil
4 tbsp olive oil
55g shallots, sliced
1 small chilli padi
55g white and brown honmeji
mushrooms (available at Japanese supermarkets)
45g oyster mushrooms
Garnish
5g pandan leaf
Arrange Maitake mushrooms onto a tray. Drizzle with olive oil and rock salt
Preheat oven to 220°C for 3 minutes. Roast the mushrooms till golden brown. Remove from oven and let cool.
Heat up another small pot with olive oil. Fry the shallots till crispy brown. Turn off the heat. Add chilli padi to infuse for 1-2 minutes. Set aside.
Add olive oil in another pot and fry the onions till soft. Add roasted Maitake mushrooms, and oyster and button mushrooms. Stir-fry for 2 minutes and deglaze with premium rice wine until wine is almost dry. Add in the spring onion stalks, fennel, laksa leaves and water. Simmer to a boil for 25 minutes.
Drain the mushroom stock but keep only enough liquid to fill another pot. Bring the stock to a boil, and drizzle one to two drops of shallot-chilli oil.
Lightly fry the honmeji and oyster mushrooms for 2 minutes. Then, arrange all the cooked mushrooms on a deep serving plate. Pour the broth into the plate. Garnish with pandan leaf.