Roasted chicken with chermoula
Few party themes are more exotic than North African adventures. Coupled with a cuisine that is steeped in spices and rich flavours, this will be one dinner to remember.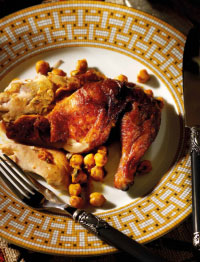 Serves 4
Prep time 5 minutes + overnight marinating time
Cook time 45 minutes
1 spring chicken, cut into half
marinade
65g cilantro, chopped
4 tbsp fresh lemon juice
2 tsp lemon zest
1 tsp cumin, toasted
1 tsp paprika powder
½ tsp cayenne pepper
4 cloves garlic, peeled and minched
pinch salt
Combine marinade ingredients with the chicken and marinate overnight.
Place the marinated chicken onto a baking tray and pour the remaining marinade over it.
Roast in the oven at 200°C for 40 minutes.
Excerpt from the October issue of epicure.