Roasted champagne pork rack stuffed with white peach-cranberry-pineapple
Pork racks are perfect for roasting, barbecuing or pan-frying. The combination of sweet chutney and pork jus with fork-tender pork will have you asking for seconds.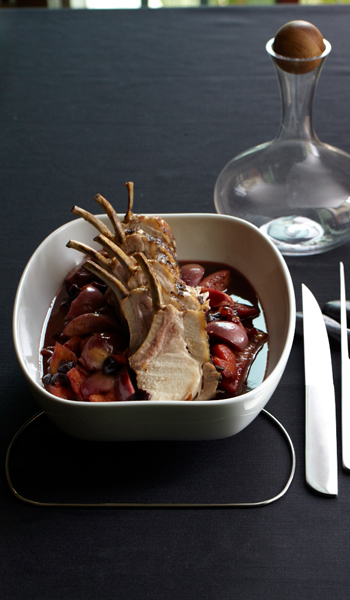 Serves 6-8 Prep time 10 minutes
Cook time 1 hour 15 minutes
2.5kg pork rack
Advertisement
marinate
pinch rock salt and freshly cracked
black peppercorns
pinch sumac
2 tbsp thyme leaves, chopped
4 tbsp melted butter
2 tbsp olive oil
white peach-cranberry-pineapple chutney
1 white onion, diced
3 white peaches, finely diced
3 tbsp cranberries, soaked in whisky
overnight
½ fresh pineapple
1 cup white wine
1 cup Champagne
garnish
200g blanched buttered garden vegetables
2 tbsp unsalted butter
Marinate the pork rack with rock salt, freshly cracked black peppercorns, sumac, thyme leaves and 2 tbsp of melted butter.
Heat up a pot with oil, pan-sear the pork rack for 3 minutes on each side till golden brown. Then, roast the pork rack in a preheated oven of 165°C for 40 minutes. Let it cool for 20 minutes. Meanwhile, pour the jus from the roast pork rack into a pot and add in remaining 2 tbsp of butter.
Heat up a pan with oil, fry the onion till fragrant, add in the peach, cranberry and pineapple and fry for 3-5 minutes.
Then, deglaze with white wine and Champagne and let it simmer for 6-8 minutes or until the mixture thickens.
Serve the pork rack with the buttered vegetables, chutney and jus.