Roast duck with cabbage-chestnut stuffing and port wine sauce
Roast Duck with Cabbage-Chesnut Stuffing and Port Wine Sauce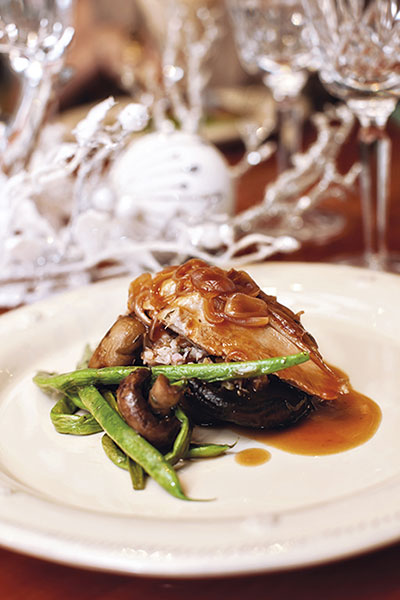 Serves 8
Prep time 15 minutes
Cook time 45-55 minutes
cabbage-chestnut stuffing
125g unsalted butter
1 medium onion, chopped
200g Savoy or white cabbage, sliced
110g streaky bacon, chopped to 1cm pieces
250g roasted chestnuts, chopped
110g fresh sausage mince
1 tsp dried thyme
½ tsp fried sage
salt and pepper, to taste
Melt the butter in a medium saucepan. Saute the onions, cabbage and bacon until fragrant. Let the above mixture simmer over low heat until cabbage is tender.
Meanwhile, place the chestnuts, sausage mince, thyme and sage into a large bowl. When the cabbage mixture has cooled, add in the sausage mince and mix well. Season well with salt and pepper. Reserve for stuffing, or roll into patties and pan-fry to serve alongside.
roast duck
2 fresh ducks (approximately 2.5kg each)
60ml distilled white vinegar
1 tsp paprika powder
½ tsp brown sugar
½ tsp garlic powder
1 tsp dried thyme
5 garlic cloves
butter and olive oil, for sautéing
250g French beans
250g Swiss brown mushrooms
salt and pepper, to taste
Preheat oven to 180°C. Wash the duck in 3 parts water and 1 part distilled white vinegar. Pat dry the insides and outside of the ducks with a kitchen towel and keep chilled.
Mix the paprika powder, brown sugar, garlic powder and dried thyme together. Rub the spice mix thoroughly on the insides and outside of the ducks, as well as under their skins. Stuff the cavities of the ducks with reserved cabbage-chestnut stuffing.
Place the ducks on a roasting pan, breast side down, and into the pre-heated oven for 25 minutes. Then, turn the ducks onto their backs and continue cooking for another 20 minutes.
To check if the ducks are fully cooked, insert a needle or skewer into its thigh. Ensure that the juices flowing out are clear and not pink.
Remove ducks from the oven and leave to rest for 5-8 minutes before carving.
As the ducks are resting, slice garlic cloves and add to a sauté pan on medium heat. Add butter and olive oil.
When the butter has melted, place the garlic slices, French beans and Swiss brown mushrooms in. Season to taste and cook until the French beans are tender. Set aside.
port wine sauce
100ml port wine
5 shallots, thinly sliced
1 litre veal jus (available at Huber's Butchery)
Place the port wine and shallot slices into a medium sauce pot over medium heat. Bring to the boil and reduce until mixture reaches half its original volume.
Add the veal jus and bring to the boil. Reduce heat and allow to simmer until mixture reaches half its original volume.
Remove from heat. Strain and serve over duck slices.