Red wine-poached pears with cantucci cookies
Red wine-poached pears, a Tuscan dish, it is traditionally prepared with a full-bodied Chianti. The dessert's Tuscan roots are explored further with the addition of cantucci cookies, a biscotti that – contrary to popular belief – is not dipped in coffee but rather, sweet Vin Santo wine.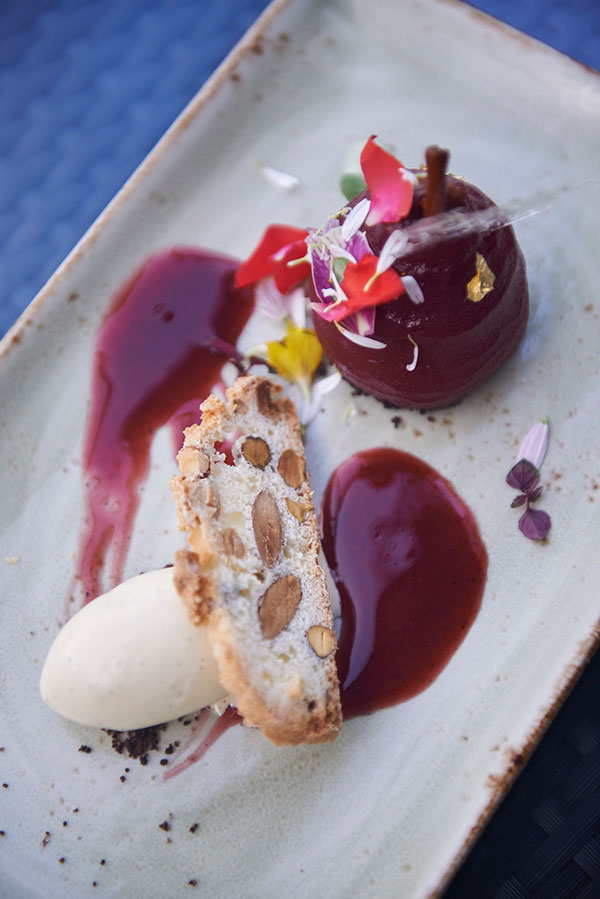 Serves 10
Prep time 45 minutes + overnight soaking
Cook time 1 hour 30 minutes

red wine-poached pears
10 Williams or Bartlett pears
1 litre water (optional)
500g sugar (optional)
750ml dry, full-bodied red wine like Chianti
200g raspberry purée (available at Phoon Huat)
100g pear purée (available at Phoon Huat)
6 cloves
½ cinnamon stick
200g sugar
Skin pears, keeping them whole with their stalks on. Slice off a small portion from each base so they can stand upright without toppling over. If pears are very firm, make a simple syrup by combining 1 litre water with 500g sugar. Poach pears until somewhat tender (pierced easily with a fork) before continuing to the below. If pears are very ripe, skip this step.
In a large saucepot, combine red wine, raspberry purée, pear purée, cloves, cinnamon stick and sugar. Bring to a boil.
Poach pears for approximately 20-30 minutes. Leave them in the mixture and allow to soak in the fridge overnight for a more intense colour.
cantucci cookies
515g sugar
308g eggs
4g salt
615g plain flour
3g baking powder
185 whole almonds, skins on
185 whole hazelnuts, shelled
185 whole pistachios, shelled
Using an electric mixer, beat sugar and eggs until light and fluffy, about 5 minutes. In a medium bowl, sift together salt, flour and baking powder. Add dry ingredients into the eggs in 3 additions, folding well after each.
Scatter nuts in and fold through. Shape batter into a log, approximately 30cm long and 8cm wide. Place logs on a baking sheet lined with parchment paper.
Bake in a 180°C until golden brown, about 30 minutes.
Remove from oven and let cool about 10 minutes.
Using a sharp serrated knife, slice cantucci into ½cm thin pieces. Return cookies to a baking sheet and bake for another 10 minutes till dry and crisp.
assembly
15g neutral juice binder (available at Phoon Huat)
biscuit crumbs or chocolate soil
gold leaf
edible flower petals
vanilla ice cream
Drain pears from poaching liquid. Heat 1 litre of reserved poaching liquid with juice binder to thicken into a glaze.
To assemble, dip base of each pear into biscuit crumbs or chocolate soil. Garnish with a touch of gold leaf and scatter with edible flower petals. Add a quenelle of vanilla ice cream, drizzle with thickened glaze and serve with cantucci cookies.