Raspberry gnocchi with braised kingfish in champagne beurre blanc
RASPBERRY GNOCCHI WITH BRAISED KINGFISH IN CHAMPAGNE BEURRE BLANC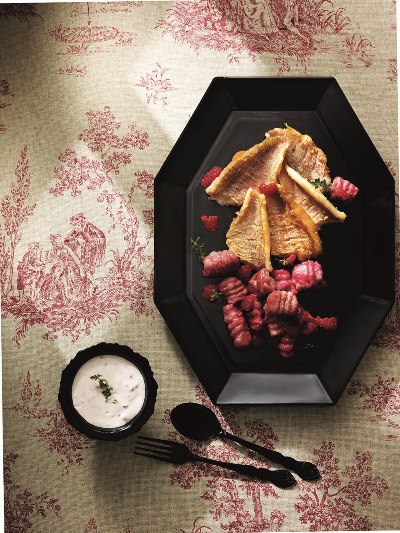 Serves 4
Prep time 10-12 minutes
Cook time 15minutes
yogurt honey thyme mix
½ cup plain Greek yogurt
2 tbsp honey
2g thyme leaves, crushed
• Combine ingredients in yogurt mix and set aside.
gnocchi
5 cooked potatoes, peeled and smashed
4 cups all-purpose flour
pinch salt and freshly cracked pepper
½ cup raspberries, smashed to small bits
2 eggs
• Combine mashed potatoes, flour, salt, pepper, raspberries and eggs in a bowl.
• Lightly knead the dough to a ball, then roll into a long tube.
• Cut to pieces, 1.5cm long and roll a fork over to form gnocchi.
• Add salt and 1 tbsp of olive oil to a pot of water and bring to a boil.
• Add raspberry gnocchi and cook till it flows up or for about 3 to 5 minutes.
• Drain and coat in yogurt mix.
champagne butter kingfish fillet
2 tbsp olive oil
8 kingfish fillets, 80g each, cleaned and scored, seasoned with salt and pepper
50g shallots, chopped
1 cup champagne or sparkling white wine
100g unsalted butter
• Heat up a non-stick pan with olive oil and fry the seasoned kingfish (skin side first) for 2 minutes on each side, or until golden brown. Set aside.
• With the same pan, fry the shallots at low heat till fragrant and deglaze with champagne. Simmer the mix until 3 tbsp of liquid remains.
• Add in butter, bit by bit and whisk until a butter sauce texture is formed.
• Serve with gnocchi and kingfish fillet.