Purple sugarcane lamb shank with purple butter potatoes and roasted asparagus
A South American variety marked by violet skin and flesh, the purple potato is earthy and has a tad nutty flavour, a great complement to lamb shank.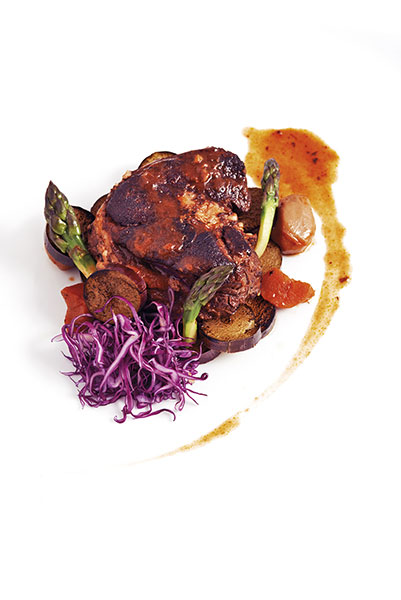 Serves 2
Prep time 10 minutes
Cook Time 1 hours 10 minutes
2 lamb shank, 350g each
2 red purple onions, peeled and quartered
5 whole garlic, smashed
5g thyme leaves
100g purple sugarcane, charred lightly over fire and cut to bite size
100g carrot peeled and cut to bite size
2tbsp olive oil
2 cans whole peeled tomatoes
300ml red wine
500ml chicken stock
pinch salt and pepper
purple potato mash
150g purple potatoes, peeled and cut to bite size
100g russet potatoes, peeled and cut to bite size
1L water
Pinch salt
120g unsalted butter
½ cup double cream
garnish
120g large purple asparagus, peeled and pre-blanched in butter stock
Season the lamb shank with salt and pepper. Heat up a cast iron pan with oil and pan and sear the lamb shank to golden brown. Set aside.
Heat up another pot with oil and fry onions and garlics till fragrant.
Add in the charred purple sugarcane, lamb shank, carrot and deglaze the pan with red wine.
Let the alcohol burn off and add in the thyme leaves, chicken stock and peeled tomatoes.
Let the mixture come up to a boil, lower the heat and let simmer for 50 minutes.
For the purple potato mash: using another pot, combine all purple potato mash ingredients together except the butter and cream.
Cook the potatoes until they are soft. Drain off the excess water and smashed potatoes while they are still hot.
Add in butter and cream to mash, and mix. Season to taste.
Serve the potatoes with the lamb shank and garnishes.