Polenta cake with lemon curd
Polenta as a flour substitute makes for a light and crunchy fail-proof cake.
Serves: 6 – 8
Prep Time: 1 hour and 25 minutes
Cook Time: 30 minutes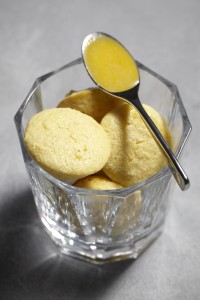 lemon curd (to be made in advance):
3 large egg yolks
zest of ½ lemon
¼ cup freshly squeezed lemon juice
6 tbsp sugar
4 tbsp chilled unsalted butter, cut into cubes
polenta cake:
3 large eggs
110g caster sugar
juice of 2 lemons
zest of one lemon
50g fine polenta (yellow cornmeal, available at Cold Storage or Marketplace outlets)
30g ground almonds
1 tbsp plain flour
lemon cream filling:
300ml double cream
250g lemon curd
punnet of raspberries
lemon curd:
Lightly whisk yolks, lemon zest, lemon juice and sugar in a small saucepan to combine.
Set over medium heat and stir constantly with a wooden spoon, making sure to stir sides and bottom of pan. Cook until mixture is thick enough to coat back of wooden spoon, about 5-7 minutes.
Remove saucepan from heat. Add butter, one cube at a time stirring with a wooden spoon until consistency is smooth.
Transfer mixture to a medium bowl. Lay a sheet of plastic wrap directly on the surface of the curd to avoid a skin from forming. Refrigerate until firm and chilled, at least 1 hour or overnight.
polenta cake:
Pre-heat the oven to 180˚C. Lightly grease the base of a 20cm round cake tin.
Separate the eggs, adding the yolks to the caster sugar. Beat at high speed till pale, thick and creamy. Pour the lemon juice, a little at a time, into the mixture and continue beating till it starts to thicken.
Mix the grated zest, polenta, ground almonds and flour together, then stir them into the eggs and sugar. Beat the egg whites till almost stiff and fold into the cake mixture.
Scrape the mixture into the lined cake tin and bake for 30 minutes or till top is lightly browned.
Remove from the oven, run a palette knife around the edge and turn out onto a baking sheet. Leave to cool.
lemon filling:
Whip the double cream until it has thickened then fold in the lemon curd. Set aside.
to assemble:
Slice the cake in half horizontally and smother the bottom half of the cake with half of the lemon filling. Place the second half of the cake on top, then cover with the remainder of the lemon filling, including sides.
Decorate with raspberries.