Poffertjes with speculaas and vanilla ice-cream
These traditional mini pancakes make a perfect ending to any Dutch meal when sprinkled with icing sugar and served with vanilla ice cream coated with crumbled speculaas cookies.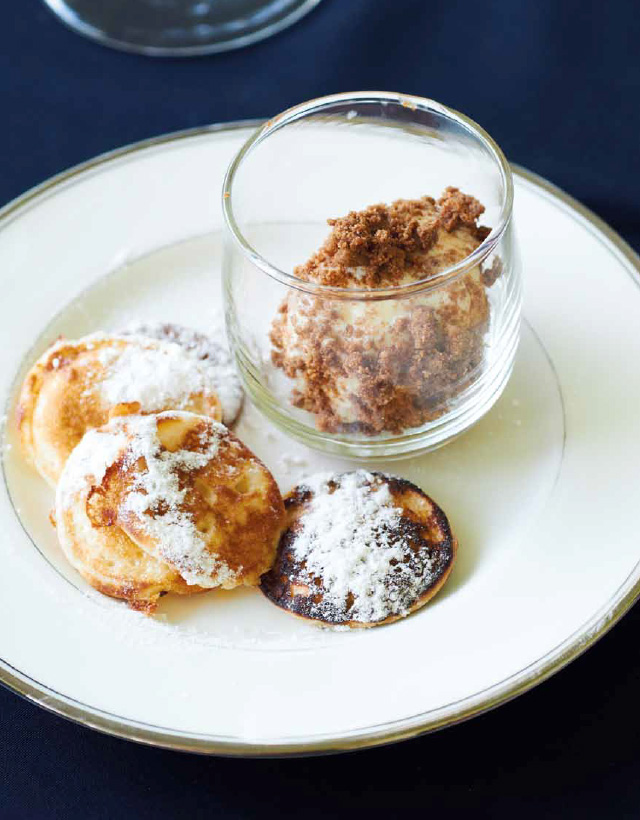 Serves 6 (about 20-30 pancakes) Prep time 1 hour 10 minutes (includes batter-rising time)
Cooking time about 5 minutes per batch
11/2 cups milk
15g fresh yeast or 7g dried yeast
200g whole wheat flour
100g buckwheat flour
pinch salt
pinch sugar
1 egg
softened butter, to grease pan
40g melted butter
10-12 speculaas cookies (or other sweet spicy cookie or ginger snaps)
2 cups vanilla ice cream, shaped into quenelles or small scoops
Warm the milk until tepid; do not boil.
Put yeast into a small bowl, add . cup of warm milk and mix until smooth. Let rest for about 5 minutes.
In another bowl mix the flour, buckwheat flour, salt, sugar, yeast mixture, egg and the remaining tepid milk with a whisk until smooth. Cover and let rise in a warm place for 1 hour.
Re-whisk the batter until smooth.
Lightly grease the poffertjes pan (or flat griddle) with softened butter and, using a small ladle or squirt bottle, fill the depressions of the pan about half way with the batter. Cook batter like pancakes and when almost golden turn within the depression and cook other side. Transfer to plate, dab melted butter and sprinkle with icing sugar.
Crumble Speculaas cookies with a rolling pin and transfer to a flat plate.
Gently roll the vanilla quenelles (or scoops) in the crumbs to coat loosely and serve immediately beside the poffertjes.