Poached eggs with smoked salmon, hollandaise & avocado
Make this cafe favourite with a hollandaise sauce garnished with French herbs.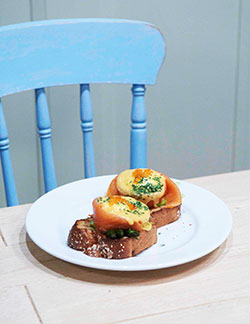 Serves 1
Prep time 30 minutes
Cook time 12 minutes
hollandaise sauce (serves 6)
3 egg yolks
300ml clarified butter
few drops lemon juice
few drops tabasco sauce
few drops Lea & Perrins Worcestershire sauce
salt, white pepper and cayenne pepper, to taste
French herbs, to garnish
Set a bowl atop a saucepan of simmering water. Add egg yolks into bowl and beat to a foamy consistency.
Remove from heat and add clarified butter in a steady stream. Whisk in lemon juice, tabasco sauce, Worcestershire sauce and season to taste.
Garnish with chopped French herbs.
poached eggs
25ml distilled white wine vinegar
500ml water
2 eggs
In a small pot, add white wine vinegar to water. Ensure there is at least 5cm of water from the base of the pot to water surface. Bring the temperature of the liquid to approximately 75 deg cel.
Gently crack both eggs in and remove after 3 minutes with a slotted spoon. Drain and keep dry on a kitchen towel.
to assemble
dollop unsalted butter
2 slices wholewheat brioche (60g each)
3 stalks green asparagus
olive oil, to taste
sea salt, to taste
½ avocado
60g Norwegian smoked salmon, sliced
mixed herbs (chervil, tarragon, Italian parsley and thyme)
10g salmon roe
Butter and lightly char-grill wholemeal brioche slices.
Peel the rough ends of the asparagus and rub with a little olive oil and sea salt. Bake in moderate oven until crisp, and set aside.
Remove flesh of avocado with a scoop, cut lengthwise into 2 halves and set aside.
To assemble, wrap salmon around poached eggs. Plate brioche and place asparagus, avocado and eggs on top. Garnish with hollandaise sauce, herbs and salmon roe.