Pat Wun Sen Sai Naem Plaa Meuk (Cured Chiang Mai Pork and Squid with Vermicelli)
The delicate nature of fresh vermicelli calls for stir-frying over low to medium heat so they don't overcook so quickly. Serve with forks and spoons – the accepted etiquette for utensils as chopsticks are not traditionally used in Thailand.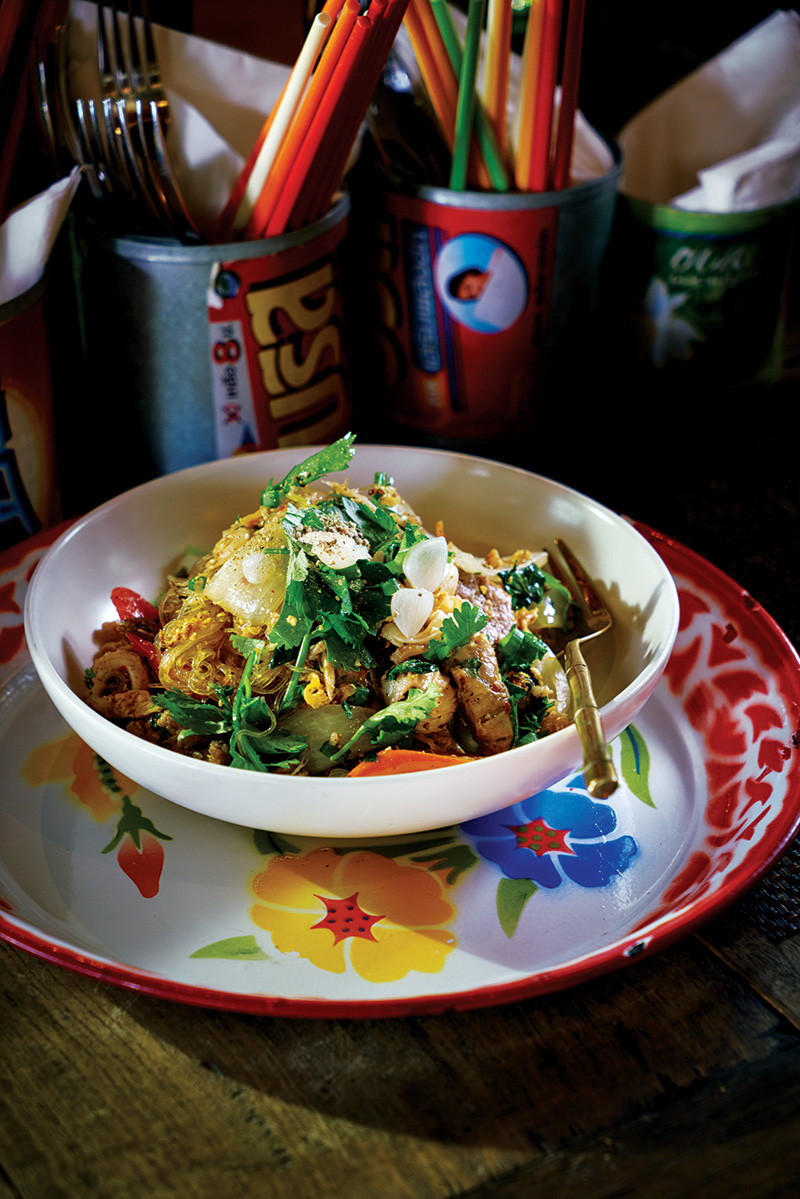 Serves 1
Prep time 30 minutes
Cook time 20 minutes
garlic paste
1 coriander root
pinch salt
1 tbsp Thai garlic, peeled
pinch ground white pepper
Pound coriander root with salt, garlic and white pepper using a pestle and mortar until you achieve a fine paste. Set aside.
vermicelli
60ml vegetable oil
50g squid, cleaned, skin-on and scored
100g cured pork (home-cured or available at Huber's Butchery), roughly chopped
50g medium white onion, finely sliced
50g fresh red and green chillies, chopped
30g ginger, peeled and shredded
120g fresh vermicelli
5ml white vinegar
20ml fish sauce
20ml soy sauce
drizzle dark sesame oil
pinch white sugar
pinch chilli powder
pinch deep-fried garlic
large pinch white pepper
1 egg, beaten slightly
30g spring onions, sliced in 3cm lengths, plus extra for garnish
10g Asian celery, chopped
10g coriander, chopped
Heat oil in a tempered wok and add reserved garlic paste along with the squid. Stir-fry, then add cured pork. Stir-fry until fragrant and squid is almost cooked. Add onions, chillies, ginger and cook until softened. Take care to keep them from burning.
Lower heat, add vermicelli and fry for a moment longer. Season with white vinegar, fish sauce, soy sauce, sesame oil, sugar, chilli powder, deep-fried garlic and white pepper.
Push noodles to the side of the wok and pour in some additional oil. Pour in beaten egg and swirl round the wok. Sprinkle herbs over the noodles and onto the setting egg.
When egg is just about cooked, combine with and fold through the noodles.
Sprinkle in extra spring onions and finish with a final dash of white pepper.