Pappardelle with wild boar sauce by al borgo
A delicicious pasta dish where the gamey flavors of wild boar is beautifully balanced by the bright, tangy notes of the tomatoes.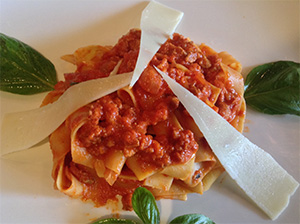 Serves 4 Prep time 20 minutes
Cook time 75 minutes
500g pappardelle
100ml extra virgin olive oil
2 cloves garlic, peeled
100g red onions, sliced
3 bay leaves
500g wild boar meat, minced
2 tbsp tomato paste (concentrate)
500ml red wine
1.5 kg tomatoes, peeled
salt and black pepper, to taste
Italian basil, parsley and Parmesan cheese, for ganishing
for the pappardelle
To cook as per package instructions
wild boar sauce
Pre-heat extra virgin olive oil in the skillet over medium to high heat until hot.
Add and sauté the sliced red onions and garlic in the skillet until they turn blonde and fragrant.
Add bay leaves and wild boar meat and sauté for 10 minutes under a strong fire.
Add tomato paste (concentrate) and stir for 5 minutes.
Add 500 ml red wine and bring it to boil.
When the red wine reduces 50% in volume, add peeled tomato, black pepper and salt and cook for an additional 45 minutes under slow fire.
Cook the pappardelle in the wild boar sauce for a further 2 minutes.
Garnish with Italian basil, parsley and Parmesan cheese.
Serve the dish while it is hot.