Pappardelle with capsicum and bottarga
Pair this dish with Pinot Grigio as the acidic wine combines well with the spices and the sweetness of the bottarga.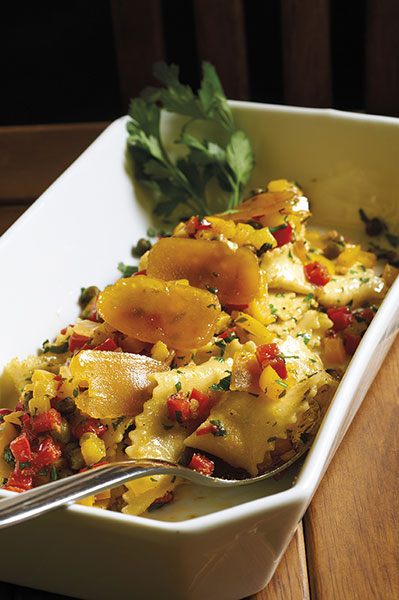 Serves 4
Prep time 10 minutes
Cook time 8 minutes
20g capsicum, diced
20g onions, finely chopped
1 small chilli, finely chopped
1 garlic clove, finely chopped
20g tiny capers
4 basil leaves, finely chopped
3 tbsp extra virgin olive oil
1 glass of Pinot Grigio
300g pappardelle
garnish
1 tbsp grated bottarga, or 50g of bottarga thinly sliced
Sauté the capsicum with onions, chilli, garlic, capers and basil in olive oil.
Add the wine and cook for 3 minutes
Cook the pappardelle in a pot of salted water for 2 to 3 minutes, or till al dente.
Drain the pasta and sauté it with the sauce for less than a minute.
Serve with grated or thinly sliced bottarga.