· 22 September 2020
RATINGS
TYPE OF MEAL
Mains
DIFFICULTY
Easy
SPEED
Quick
RECIPES
Pan Seared Salmon in Laksa Enhanced Moiely Sauce by Song of India
Chef Manjunath Mural approaches Indian food with a modern interpretation that has seen him bring accolades to Song of India. His passion sees him popularising Indian food with refined flavours and masterful presentations.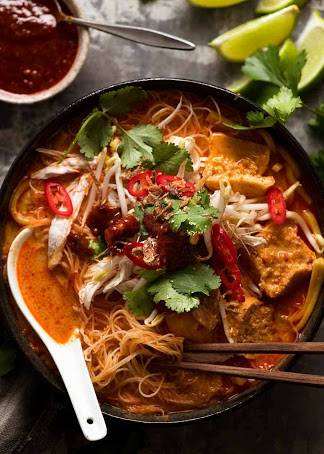 Serves 2
Prep time: 15 min
Cook time: 25 min
200g Salmon fillet (2 pcs of 100g)
1tbsp Ginger garlic paste
1 tbsp Lime juice
1 tsp Grainy mustard
150ml vegetable oil
pinch of salt
Sauce
1tbsp oil
1tsp Mustard seeds
6 Curry leaves
4 Kaffir lime leaves
1 Onion, small, chopped
1 Tomato, small, chopped
1 Ginger, small, chopped
½ tsp Red chilli powder
2tsp Laksa paste
200ml Coconut cream
salt to taste
Marinade the Salmon pieces with ginger garlic paste, lime juice, grainy mustard, salt, then keep it aside.

Meanwhile prepare the sauce.

For sauce, heat oil in a sauce pan, add the mustard seeds, curry leaf, chopped onion, chopped tomatoes, chopped ginger and sauté it for 4-5 min.

Add the red chilli powder, then the laksa paste, coconut cream, kaffir lime leaf. bring it to boil, stir it constantly, finally add the salt, and keep it warm.

Heat oil in pan, shallow fry the salmon evenly both the side.

Heat the sauce, pour into dip plate, place the salmon, and garnish with curry leaves micro greens.
Tip:
• Make sure all the ingredients are tempered before cooking them; strain the sauce and pan sear the fish.

SHARE