Pan-fried chicken roll with port salut cheese stuffing
This semi-soft pasteurised cow's milk cheese hails from Brittany and sports an unmissable orange crust. It has its origins as a monastery cheese as it was invented by 19th century Trappist monks.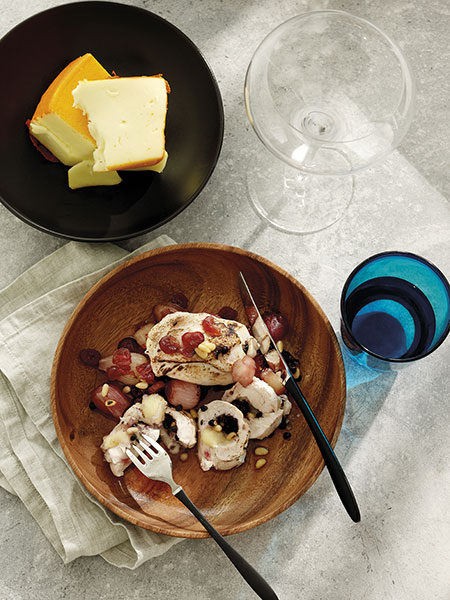 Serves 4
Prep time: 15 minutes
Cook time: 20 minutes
6 chicken legs, deboned
300g Port Salut cheese, available from Greengrocer, divided into 6 even portions
12 slices bacon strips
stuffing
1tbsp olive oil
30g white onion, diced
30g carrot, diced
30g toasted pine nuts
2tsp honey
Pinch rock salt and freshly cracked black pepper
½cup white wine
garnish
80g butter glazed garden vegetables
5g fresh herb
2tsp mint-infused oil
Heat up a pan with oil and fry onions until fragrant.
Add in the rest of the stuffing ingredients and lightly fry for 2 minutes. Let the cooked stuffing cool down.
Deglazed the pan with white wine.
Stuff the cooked stuffing and port salut cheese into the deboned chicken legs.
Wrap the stuffed chicken legs with bacon until it is fully covered.
Place the bacon wrapped chicken leg into a preheated oven of 170°C and roast for 12 to 15 minutes or until the chicken leg is cooked.
Rest the chicken leg in the oven for 3 to 5 minutes.
Serve the roasted chicken leg with the garnishes.