Moroccan shrimp cigar
Briouats are Moroccan puff pastries that are traditionally served during festive occasions and filled with a variety of fillings like tuna and potatoes. For this recipe, shape your dough into long, thin spring rolls.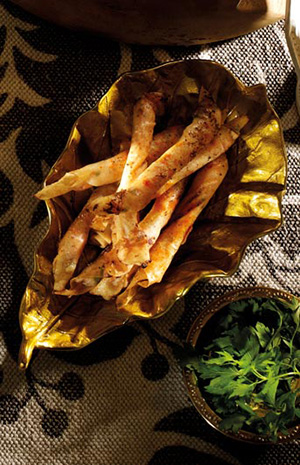 Serves 4 Prep time 10 minutes
Cook time 7 minutes
2 tbsp olive oil
4 cloves garlic, peeled and crushed
80g parsley leaves, chopped
65g fresh cilantro leaf, chopped
900g baby shrimps, lightly blanched
1 tbsp paprika
3 tsp cayenne pepper
4 eggs, beaten
22 sheets ready-made phyllo pastry, cut to 88 squares.
Heat up a non-stick pan with olive oil and fry the garlic till fragrant.
Add in the chopped parsley, cilantro, shrimps, paprika and cayenne pepper, then fry the mixture for 2 minutes.
Cool the mixture, add in half of the beaten eggs and mix well.
Place a phyllo pastry square on a flat surface, fold it into half and top with filling.
Roll it into the shape of a cigar, dab the side of the pastry with the beaten egg and seal.
Repeat the steps for all of the pastry squares.
Heat up a pot of oil and lightly fry the pastries till golden brown.
Strain, dab off the excess oil and serve.