Mixed fruit tartlet
This showstopping dessert makes a stunning end to any meal. With 16 egg yolks, the crème pâtissière (pastry cream) filling is extremely rich, and best countered with a generous topping of tart, juicy berries.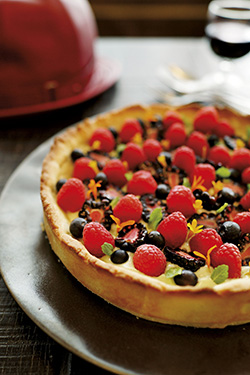 pâte sablée tart base
1 vanilla pod
200g plain flour
125g sugar
125 unsalted butter, room temperature
1 egg
Preheat the oven to 160°C. Split the vanilla bean and scrape the seeds with the back of a small knife.
Mix the seeds into the plain flour. Add sugar, butter and egg, mixing gently with an electric mixer to form a dough. Knead the dough by hand until it comes together, then wrap tightly with cling film. Refrigerate for 1 hour.
Remove the cling wrap and roll the dough out with a rolling pin. Line the base of a 9-inch round tart tin and bake till golden brown, about 7 minutes.
crème pâtissière
1 litre whole milk
1 vanilla pod, split
80g cornstarch
16 egg yolks
350g sugar
150g unsalted butter, cubed
In a saucepan, bring the milk to a gentle simmer over low heat. Add the split vanilla pod to infuse for 3-5 minutes. Discard the vanilla pod and remove the saucepan from heat. Add in cornstarch and mix well.
Combine the egg yolks and sugar, whisking well until light and fluffy. Add the milk into the egg and sugar mix, stir well and return to low heat. Cook for 5 minutes, stirring continuously until the mixture is smooth and thick.
Remove from heat and add in the butter, little by little, until completely blended. Pour into a heat-proof container and place a piece of plastic wrap directly on the surface to prevent a skin from forming. Refrigerate until chilled, at least 2 hours.
fruit topping
1 punnet raspberries
1 punnet blueberries
1 punnet blackberries
Fill the cooled tart base with crème pâtissière and top with assorted berries.
Excerpt from the February 2014 issue of epicure.