Malloreddus alla campidanese
MALLOREDDUS ALLA CAMPIDANESE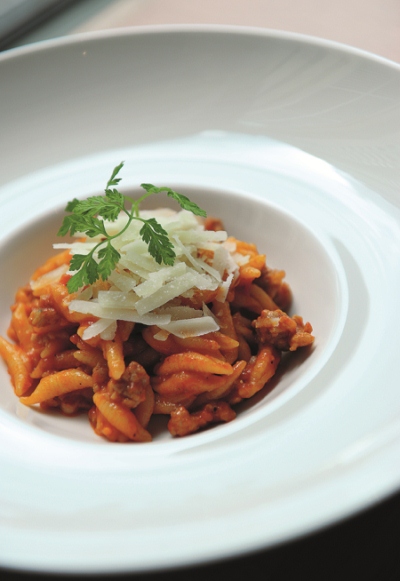 Serves 4 Prep time 20 minutes
Cook time 20 minutes
basic tomato sauce
1kg canned tomatoes, peeled
1 onion, chopped
1 celery, chopped
1 carrot, chopped
2 garlic cloves
4 tbsp extra virgin olive oil
10g fresh basil, roughly chopped
salt and pepper to taste
4 tbsp extra virgin olive oil
½ onion, chopped
2 cloves garlic, chopped
30g fresh basil, roughly chopped
1 tsp fennel seeds
150g fresh Italian sausages, casings removed
½ glass white wine
100ml chicken stock
320g dried malloreddus (available at Italian Food & Wine)
50g Pecorino cheese
• Combine ingredients for tomato sauce in a saucepan over medium heat and cook till it thickens, about 10 minutes.
• Heat up extra virgin olive oil in a sauté pan. When hot, toss in onions, garlic, basil and fennel seeds. Fry till fragrant.
• Add sausage meat and cook till its juices start to run. Then add white wine and reduce for 5-10 minutes.
• Add tomato sauce and chicken stock. Stir till sauce is smooth and glossy.
• In a separate pot, cook malloreddus pasta in salted boiling water till al dente. Strain, add to sauce mixture and toss evenly.
• Dish onto serving plates, garnish with freshly grated pecorino cheese and serve.