Lobster bisque with homemade ravioli and dried tomatoes
One of the most valued crustaceans around, Brittany lobsters are known for their creamy, firm flesh and require little embellishment to coax out their natural sweet flavour.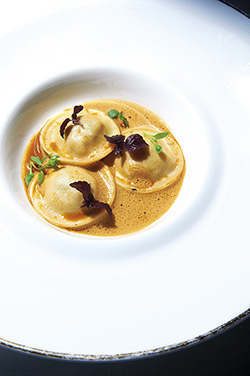 Serves 4 Prep time 25 minutes
Cook time 30 minutes
100g white onions, chopped
100g fennel, cut to big chunks
150ml white wine
pinch salt and peppercorn
5 litres water
ravioli stuffing
1 Brittany lobster (500g)
30g dried tomatoes, chopped
10g chives, finely chopped
40g basil
pinch salt and peppercorn
100g fresh pasta dough or wanton skin
1 egg
plain flour, as needed
30ml olive oil
100g butter
50g shallots
30g tomato paste
50g tomatoes, cut to wedges
30ml cognac
100ml cream
water, enough to cover shells
Add white onions, 50g fennel, 50ml white wine, salt and peppercorn in a pot of water and bring to a boil.
Remove the lobster tail from its head and cook the tail in pot for 5 minutes. Remove and cool in chiller.
Finely chop the meat from lobster tail and mix with dried tomatoes, chives, 10g of basil and season with salt and peppercorn.
To make ravioli, roll pasta dough finely into two sheets. Place ounce of stuffing 2 inches apart from each other, and brush the egg around the stuffing to make the dough damp.
Place the second sheet on top of the stuffing and press it down lightly. Cut ravioli using a ravioli cutter and place on a sheet pan sprinkled with plain flour.
Place ravioli in boiling water and cook for 6 to 8 minutes. Cook for 3 minutes if using wanton skin.
Chop the lobster's head and claws to squares of 4 x 4 cm, and sear the shells in a pot of olive oil till it turns red.
Add butter and shallots, rest of the fennel and sweat for 5 minutes. Add tomato paste and mix to caramelise it slightly. Add fresh tomatoes and deglaze with remaining white wine and cognac.
Reduce, add cream then cover the shells with water. Bring it to simmer and cook for 30 minutes.
Add remaining basil, infuse for 5 minutes and strain. Reduce the soup to your preferred consistency. Serve cooked ravioli with lobster bisque on the side.