· 21 September 2020
RATINGS
TYPE OF MEAL
Desserts
DIFFICULTY
Intermediate
SPEED
Long
RECIPES
Le P.B.S Paris-Singapour by Odette
This is Odette at Home's interpretation of Paris-Brest, a choux pastry piped full with luscious praline cream and Piedmont hazelnuts. Odette pays homage to our city with Paris-Singapour, an inspired twist with flavours of gula melaka, coconut and a rich kaya cream based on a treasured family recipe passed down to Sous Chef Yeo Sheng Xiong.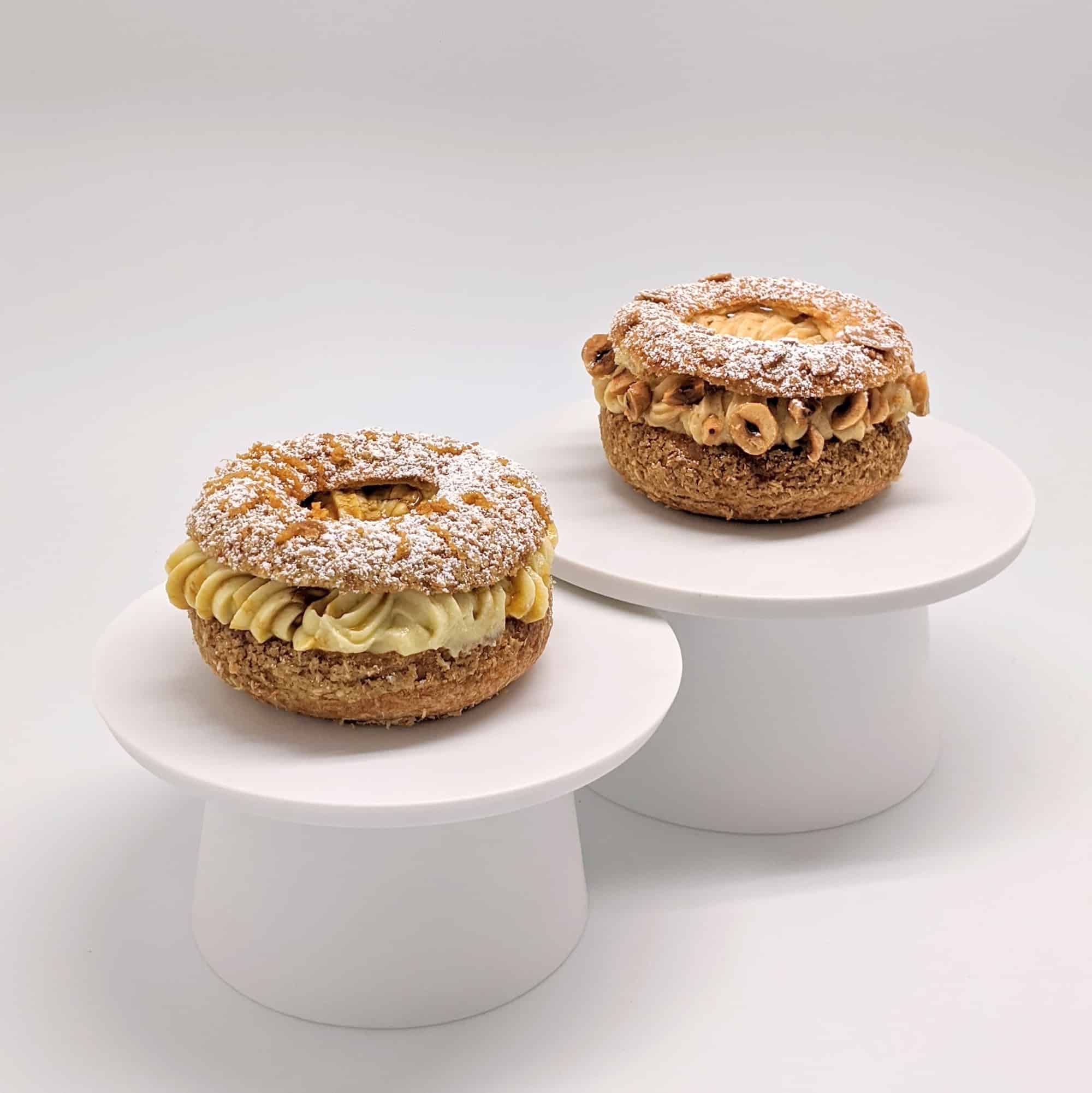 Serves 6 to 8
Prep TIme:  Choux (30min), Kaya (20 min), Creme kaya (20 min)
Cook Time: 45 min
Choux Pastry
250g Milk
250g Water
220g Butter
10g Salt
10g Caster Sugar
300g All-Purpose Flour (sifted)
400g Eggs
Desiccated Coconut (optional, for garnish)
• In a pot, bring milk, water, butter, salt, sugar to gentle boil.
• Once mixture starts to boil, add in sifted flour and mix together with a whisk. Switch to a spatula and continue to cook dough, drying it out until it comes together.
• Transfer to stand mixer and beat dough with a paddle attachment to cool slightly. Add eggs one at a time, ensuring each egg is emulsified into the dough.
• Transfer into piping bags and pipe into a ring shape on parchment paper.
• Place craquelin on top (optional), brush with egg white, and sprinkle desiccated coconut.
• Bake at 180°C for 30 mins, then once shape of choux is set, bake at 150°C for 10-15 mins. Pastry should rise and take a nice golden colour, leave to cool.
Tip:
• Dough is ready when a thin film starts to form around the pot.
Craquelin (optional)
300g Unsalted Butter (softened)
375g Light Brown Sugar
375g All-Purpose Flour
Pandan Extract
• Place soft butter and sugar together in a stand mixer, mix together.
• Once butter and sugar come together, add in flour and mix until just homogeneous.
• Roll out to desired thickness between parchment paper and freeze.
• Once frozen, ring mold craquelin and reserve in a box between parchment for baking choux. Keep in Freezer.
Tip:
• Ensure you do not cream the mixture.
Kaya
100g Pandan Leaves (Washed + Chopped)
200g Water
450g Whole Eggs
350g Sugar (split half and half)
500g Coconut Cream
5g Salt
• Prepare pandan concentrate by blending pandan leaves with water, strain and squeeze pandan leaves dry. Leave overnight to separate, then remove as much excess water as possible leaving on the concentrate.
• Place eggs and half the sugar together in a mixing bowl and whisk to incorporate.
• Warm up coconut cream, salt, remaining sugar and pandan extract together. Do not bring to boil.
• Combine everything into the mixing bowl and cook over a bain marie using a whisk until it reaches 65°C, then switch to a spatula. Continue to cook kaya until it thickens to desired consistency, then let cool.
Tips:
• Best to buy fresh pandan leaves from the market to make your own pandan concentrate.
• Kaya can be made a few days in advance. Set aside 240g for the recipe and enjoy the rest over toast.
Creme Kaya
350ml Milk
60g Caster Sugar
80g Egg Yolk
20g AP Flour
20g Corn Starch
240g Kaya
150g Unsalted Butter (softened)
• Whisk sugar and egg yolk until incorporated, then mix in flour and cornstarch.
• In a pot, bring the milk to a boil then temper the egg mixture, pouring milk into the egg mixture slowly and constantly whisking.
• Transfer mixture back into the pot, bringing it back to a boil and let it cook for a minute.
• Take it off the heat and pour into a bowl to let cool. Refrigerate pastry cream overnight – it can be made in advance to allow it to set better.
• In a mixing bowl, soften the cooled pastry cream and mix in kaya and butter until well incorporated.
1. Split choux pastry shell in half, horizontally.
2. Pipe creme kaya in swirls onto the bottom half of the choux pastry.
3. Grate gula melaka onto the kaya creme.
4. Cover with the top half of the choux pastry and place in the refrigerator to set before enjoying it together with loved ones.
SHARE