Lavender and apricot èclairs
These éclairs bear a decorative crackly topping called craquelin, a simple sweet dough that is draped over the choux before they're baked. They add crunch and flavour, and keep the shape of the choux pastry consistent.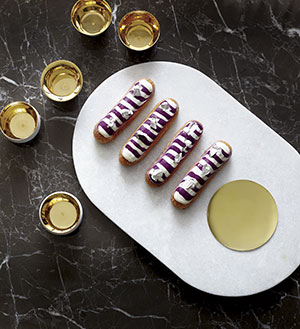 Serves 6­-8 Prep time 2 hours 30 minutes
Cook time 45 minutes
pâte à choux
250ml water
5g salt
5g sugar
125g unsalted butter
150g plain flour, sifted
220g eggs
1 egg beaten, for egg wash
In a medium saucepan, combine water, salt, sugar and butter. Bring to a boil until butter, salt and sugar have completely melted. Remove from heat and add in sifted flour.
Mix well and vigorously until the dough pulls away from the sides of the pan and is smooth and free of lumps. Stir around for an extra minute to remove excess steam and humidity.
Transfer into the bowl of a stand mixer fitted with a paddle attachment. Beat dough till slightly cool, then beat in eggs one by one, mixing well between each addition and scraping halfway. The mixture should be smooth and supple.
Transfer to a piping bag fitted with a 16mm piping tip. Pipe bands of approximately 12cm in length on a Silpat or non-stick baking tray. Apply egg wash and streak with a fork.
craquelin (crumble)
100g unsalted butter, softened
100g raw brown cane sugar
100g flour
Mix all the ingredients together using a spatula till it forms a sticky dough. Roll the dough between two Silpats to a thickness of 2mm.
Set aside to firm up and cut into 13cm by 3cm strips. Lay each strip on top of each piped éclair.
Bake at 200-210°C until puffed to their maximum. Open oven door slightly to release steam, reduce heat to 160°C and switch on the fan function. Continue baking till golden brown and dry to the touch. Set aside to cool.
pastry cream
270ml whole milk
30ml heavy cream
1 vanilla pod, split and scraped
54g egg yolks
54g sugar
15g cream powder
15g plain flour
3g gelatine
48g unsalted butter
In a pot, heat milk, cream and vanilla and bring to a boil.
In the bowl of a stand mixer, whisk egg yolks, sugar, cream powder and flour until smooth. When the milk mixture comes to a boil, gently pour half the amount into the eggs while whisking constantly.
Pour the tempered egg mixture back into the remaining milk in the pot and cook till it thickens and the first bubble pops. Whisk in gelatine and then butter until smooth and emulsified.
Using an immersion blender, blend pastry cream until smooth. Keep chilled until required for use.
lavender crème légère
300g pastry cream (above recipe)
16g lavender essence
72ml whipping cream, whipped to soft peaks
Using a stand mixer fitted with a paddle attachment, mix set pastry cream on low speed till smooth. Add in lavender essence and mix till homogenous.
Fold in whipped cream with a spatula and transfer to a piping bag.
apricot confiture
200g store-bought apricot confiture/preserves
Transfer to a piping bag.
white/purple glaze
3.5g gelatine sheets
125ml whipping cream
200g Valrhona Ivoire white chocolate, roughly chopped
126g nappage neutre (clear glaze) (available at Amazon.com)
purple hydrosoluble colouring
titanium dioxide (Available at Amazon.com)
Bloom gelatine in ice cold water for at least 20 minutes. Bring cream up to a gentle boil. Squeeze gelatine of excess water and add to the cream. Heat until completely dissolved. Pour over white chocolate.
Whisk until completely emulsified and homogenous. Using an immersion blender, blend in the nappage neutre.
Separate the glaze into two portions and colour them accordingly – the purple glaze with hydrosoluble colouring, and the white glaze with titanium dioxide. Store at approximately 40°C for optimal consistency.
Just before using, transfer each glaze into its own piping bag.
assembly
silver leaf
Poke three holes on the bottom of each choux pastry with a chopstick. Pipe each éclair with approximately 25g of lavender cream, then fill with apricot confiture until éclairs are completely full.
Glaze éclairs by alternating between the two colours – piping them across the top and swiping the edge of each in different directions. Garnish with silver leaf and leave to set in the refrigerator.
Excerpt from the May 2015 issue of epicure.