Kueh dada with coconut foam
The siphon or the espuma bottle as it's popularly known is great if you want to inject an element of avant-garde cooking too your entertaining style without too much fuss. It's used to create foams or froth without the need for an emulsifying agent like egg. Add a modern twist to traditional kueh dada with whipped cream-like coconut foam.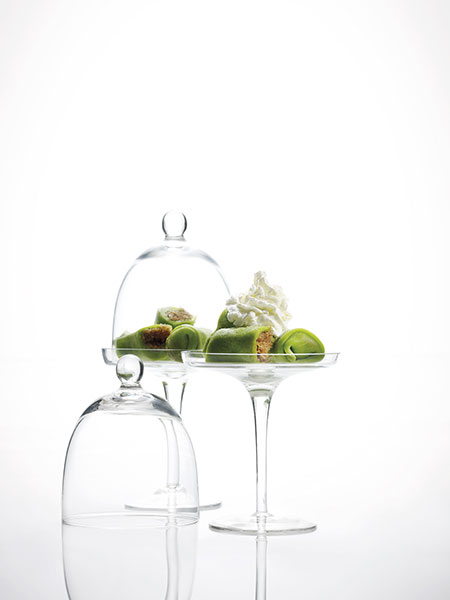 Makes about 10-12 crepes
Prep time 10 minutes
Cook time 20 minutes
300ml coconut milk
200ml water
200g plain flour (sifted)
1 egg
1-2 drops green food colouring
100ml corn oil
filling
200g fresh dessicated coconut
100g palm sugar/gula melaka (dissolved in 30ml hot water)
200ml coconut milk
Combine half of the coconut milk with water and flour. Add egg, green food colouring and corn oil. Beat mixture till smooth. Pour in the remaining coconut milk. Whisk until fully incorporated. Allow batter to rest for 30 minutes.
Heat up and lightly oil a non stick pan. Pour some batter onto pan and swirl to even out the batter. When sides turn remove crepe and repeat the same process using up all the batter.
In a sauté pan, fry the grated coconut till it's just heated up. Add in the dissolved gula melaka or sugar; stir till mixture is well-blended.
When cooled, spread 2 teaspoonfuls filling in the middle of the crepe. Roll up crepes and arrange on serving plates.
Place the extra coconut cream in a siphon with gas canister attached. Pipe some coconut foam and serve.