Kimchi sliders
These mini burgers feature kimchi, pork patties (and if you like, a few optional strands of alfafa sprouts) sandwiched between raisin buns—enough to get your friends' taste buds swooning.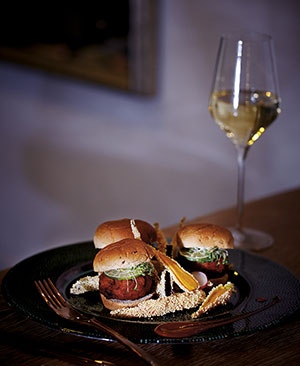 Serves 4 Prep time 15 minutes + 4­5 days to marinate kimchi
Cook time 20 minutes
pork mixture
420g minced pork
70g pork fat
65g corn
1 tbsp mayonnaise
2 slices streaky bacon, fried till crisp
25g plus 8 tbsp white onions, diced and lightly fried with butter to soften
½ cup plus 8 tbsp kimchi, chopped to small bits
pinch salt and freshly cracked pepper
1 tbsp olive oil
8 raisin buns, lightly brushed with butter and toasted
Combine the ingredients of pork mixture and mix well, but reserve the 8 tbsp of white onions and kimchi. Mould and knead the pork into round shaped patties of 3cm thickness. Lightly season the pork patties.
Heat up a non­stick pan with olive oil and quick fry the patties for 1 minute on each side to brown the meat. Turn off heat and rest the patties in the pan for 5 minutes.
Layer bottom halves of the buns onto a plate, and then top with 1 tbsp of kimchi and onions, and the patties. Place them near the hot grill in an oven and grill till meat is cooked.
Top with the remaining bun halves and serve.
TO MAKE YOUR OWN KIMCHI:
1 Chinese cabbage
175g salt
100ml vinegar
marinade A
1¼ cups water
2 tbsp flour
2 tbsp opossum shrimp (available at Meidi­Ya supermarket)
2 tbsp anchovy sauce
marinade B
2 bunch chives
150g green onions, finely chopped
50g grated ginger root
2 cloves garlic, crushed
100g chilli pepper, grounded
80g sugar
Cut cabbage into quarters. Sprinkle salt between leaves. Place a heavyweight item on the cabbage and keep in the fridge for two to three days.
Rinse the cabbage with water and lightly squeeze it.
Mix marinade A ingredients in a pan and bring to a boil while stirring constantly. Simmer over medium heat for 3 to 4 minutes, and then set aside to cool.
Combine the two marinades together and spread the mixture between the cabbage leaves. Remember to use gloves to prevent irritation caused by the red hot chilli pepper.
Fold each section together into a rectangular container. Cover with plastic cling wrap and keep in fridge for a minimum of 4­5 days.
Jack Rose Cocktail
45ml cognac
10ml fresh lime juice
15ml plain sugar syrup
5 rose petals
½ apple
garnish
rose petals
Put all the ingredients into a blender and blend.
Pour ingredients into a shaker, add crushed ice and shake.
Pour into a rock glass, garnish with rose petals and serve.