Kangaroo steak sandwich with chunky fries and mustard dressing
Bored with Philadelphia steak sandwich? Swap beef for the gamey lean kangaroo meat. Tip: cook kangaroo meat until medium rare to medium as it becomes too stringy and dry when overdone. A creamy swipe of mustard dressing completes the scrumptious stack.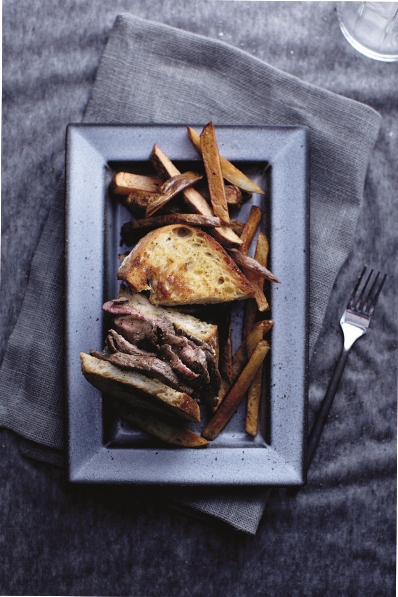 Serves 4
Prep time 10 minutes
Cook time 15 minutes
marinade
pinch rock salt
pinch freshly cracked black pepper
pinch fine brown sugar
2 tsp Spanish paprika
½ cup yogurt
1 tbsp Lea & Perrins Worcestershire sauce
250g kangaroo fillet steak (enquire at ask@greengrocer.com.sg)
1tbsp olive oil
Put the marinade ingredients into a bowl and whisk until well combined.
Add the kangaroo fillet steaks into the marinade and refrigerate overnight.
Heat up grill pan with olive oil, sear the kangaroo fillet on all the sides to a golden brown .
Preheat the oven to 170°C, and lightly roast the kangaroo fillet for 6 to 8 mins or until medium doneness.
Let the meat rest for 15 to 20 mins before slicing it to 2cm thickness.
mustard dressing
2 tbsp yellow mustard powder
2 tsp Spanish paprika powder
1 tbsp warm water
juice from ½ orange
1 tbsp Manuka honey
½ cup egg yolk mayonnaise
Place the yellow mustard powder, paprika powder and warm water together well in a bowl, mix it well.
Then, add orange juice, honey and finally fold in the mayonnaise.
garnish
120g golden fry chunky fries
4 thick slice wholemeal rustic bread, lightly toasted with unsalted butter
Spread the mustard dressing on the bread and layer the fillet meat onto the bread.
Serve the sandwich with chunky fries and extra mustard dressing.