Kahlo wedding cookies
From Caitlin Freeman's book, Modern Art Desserts, these are traditional Mexican cookies with a bit of a twist in the form of Nocino (Italian walnut liqueur).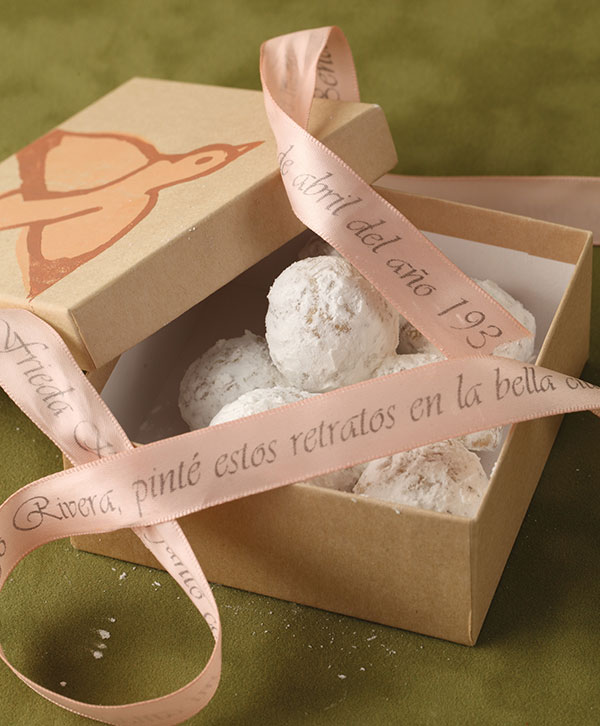 Makes 80 cookies
Hand-on time 45 minutes
From start to finish 6 hours
1 cup (4oz/114g) walnuts
½ cup (2oz/57g) confectioners' sugar, plus more for rolling
1 cup (8oz/227g) unsalted butter, at room temperature
1 tsp Maldon sea salt
1 tbsp nocino (Italian walnut liqueur)
1¾ cups (8.6oz/245g) all-purpose flour
In a medium heavy-bottomed skillet, toast the walnuts over medium heat, shaking often, until fragrant and lightly browned, about 5 minutes. Transfer the walnuts to a bowl or plate and freeze until thoroughly chilled, at least 1 hour or up to 2 months.
Place the frozen walnuts (they're more easily processed when they're cold) and ¼ cup (1oz/28g) of the confectioners' sugar in a food processor and pulse until the mixture resembles coarse sand.
Combine the flour and walnut mixture in a medium bowl and set aside. In the bowl of a stand mixer fitted with the paddle attachment, beat the butter on low speed until smooth, 1 to 2 minutes. Sift in the remaining ¼ cup (1oz/28g) of confectioners' sugar, add the salt, and mix on low speed until the mixture is light and fluffy, 4 to 5 minutes.
Add the nocino and beat until incorporated, about 20 seconds. Scrape down the bowl, then add the flour mixture and mix on low speed just until the dough is uniform, about 15 seconds. Cover the bowl tightly with plastic wrap and refrigerate for at least 3 hours or up to 5 days.
Portion the chilled dough into teaspoon-sized (0.25oz/7g) pieces, and then roll each piece into a ball between your hands. Set the balls on a large plate, cover with plastic wrap, and refrigerate for at least 30 minutes, or up to 1 week.
Position racks in the upper and lower thirds of the oven. Preheat the oven to 350°F (180°C). Line 2 baking sheets with parchment paper. Place the chilled balls on the prepared baking sheets, spacing them about 1-inch apart. Bake, rotating the baking sheets midway through baking, until the cookies are fragrant and lightly golden around the edges, 10 to 12 minutes.
Let the cookies cool for a few minutes on the baking sheets, and then use a spatula to transfer them to a wire rack to finish cooling. Once the baking sheets are no longer warm, bake the remaining dough balls and let the cookies cool completely.
Just before serving, sift about ½ cup (2oz/57g) of confectioners' sugar into a medium bowl. Roll the cooled cookies in the sugar until coated on all sides.