Hot sea bass carpaccio with fresh herbs and bottarga
Hot Sea Bass Carpaccio with Fresh Herbs and Borttaga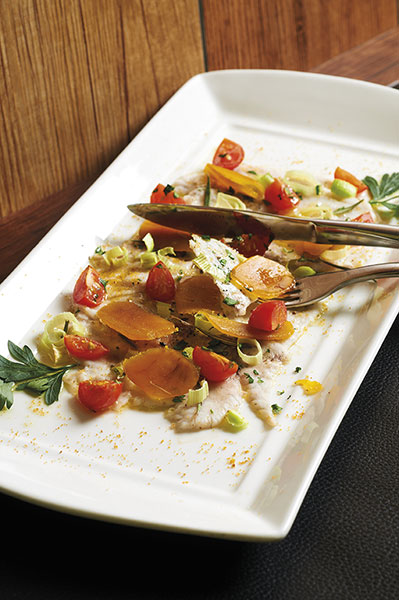 Serves 4
Prep time 15 minutes
Cook time 3 minutes
800g fresh sea bass
1 garlic clove, finely chopped
3 tbsp extra virgin olive oil
1 tsp basil, finely chopped
50g leeks, sliced
100g cherry tomatoes
1 tsp onions, finely chopped
salt and pepper, to taste
garnish
1 tbsp grated bottarga or 50g thinly sliced bottarga
1 sprig Italian parsley, finely chopped
Wash and fillet the sea bass. Slice the fish into thin slices and arrange on a plate.
Top with garlic, olive oil, basil, leeks, cherry tomatoes, onions and salt and pepper.
Cook the fish in an oven at 200°C for 2 to 3 minutes.
Serve with grated or sliced bottarga and chopped Italian parsley.